Roses schmoses. Who needs a reality love bud from The Bachelor Brad Womack when you can have a Sports Illustrated Swimsuit issue pictorial instead? Our friends at StyleList scored a sneak peek at one of the spreads in the annual—and much-anticipated—Sports Illustrated Swimsuit Issue, which is out on newsstands on February 15.
Three of Womack's final six female suitors; sexy divorcée Chantal O'Brien, 28, dentist Ashley Hebert, 26, and season 14's resident crazy, hairstylist Michelle Money, 30, spent a group date with Texan Womack on the beaches of Anguilla posing for the magazine's iconic annual swimsuit issue.
Try on sexy hairstyles in the Makeover Studio!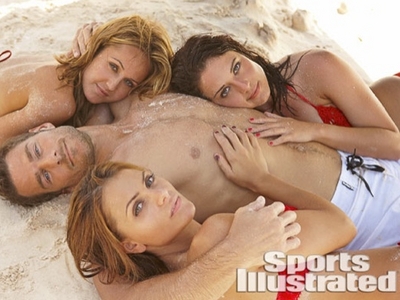 The ladies were dressed in coordinating red bikinis to frolic for the photo shoot that included group and individual shots with the hunky Womack for the issue that hits newsstands Feb. 15. The Bachelor episode which features the shoot airs on ABC tonight.
StyleList got a sneak peek of one of the shots by fashion photographer (and frequent SI Swimsuit contributor) Raphael Mazzucco that shows the three ladies surrounding the six-packed object of their affection dripping in sand and bronzer.
The photogenic trio, who have all indulged in some romantic histrionics while pursuing Womack, were total professionals on the waterfront set, according to MJ Day, senior associate editor Sports Illustrated Swimsuit.
"These three women completely embraced the SI Swimsuit attitude during the photo shoot," Day tells StyleList. "We had these girls up at 2 a.m. to do fittings, hair and makeup and they were still so excited to be part of the swimsuit issue."
Check out this year's sexy Sports Illustrated Swimsuit Issue models!
Hebert wore a red Lucky Brand two-piece with a tie back, O'Brien an embossed, whimsical Betsey Johnson bikini and Money was sultry in a Maui Girl look. "We planned the (red) suits to represent the rose they were all hoping to get from Brad at the end of the date," Day shares.
And never mind the almighty rose, O'Brien seemed to be vying for a cover! A sneak peek of the episode on network's Web site shows her volunteering to strip off her bikini top after rolling in the sand and waves.
The show's in-house stylist, Cary Fetman, let the SI team do their magic during the shoot but tells StyleList: "I thought they did a great job with everyone. The girls looked amazing."
We can't wait to tune in tonight to see how Womack's other remaining girlfriends, Emily Maynard, Britt Billmaier and Shawntel Newton, reacted when they weren't invited to the shoot.
Top 10 sexy Sports Illustrated swimsuit models!

Try on sexy hairstyles in the Makeover Studio!
More from StyleList
Brooklyn Decker's Style Evolution
How To Do A Faux Bob