I've never been one of those women who views professional manicures as a necessity. I can honestly count the number of them I've had done on one hand. There's a couple reasons for this: I hate the way it feels when someone files my nails, I end up chipping or smudging the polish within an hour after having them done and, most importantly, they cost too darn much.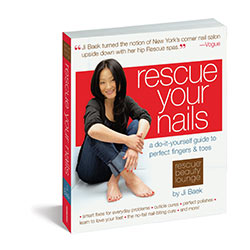 My new must-read manicure manual.
Apparently I'm not the only one. I recently had a chat with one of my absolute favorite people in the beauty industry, Ji Baek, a celebrity manicurist and the founder of the super-hip Rescue Beauty Lounge. Even though she owns her own nail salon/spa, Ji is still a huge proponent of the at-home manicure. So much so that she even wrote an A-Z guide to nails, including her step-by-step routine for DIY mani's.
"The hardest part about doing your nails at home is actually committing to it," says Ji. "It's all about getting yourself into a routine. If you usually get your nails professionally done once a week, switch that to once a month. In between those visits, you can cut, trim, style and polish your own nails."
Sound intimidating? It's totally not. I picked up Ji's book, Rescue Your Nails and found out all sorts of helpful tips on everything from how to trim your nails (from one side to the other, never start in the middle or you could end up splitting your nail) to the best way to apply polish (use wide, even strokes from the base to the tip and do two thin coats) and her secret weapon for beautiful cuticles (she rubs excess eye cream on them to make them super-soft).
Not only is it easy and less stressful to do your nails on your own, it will also save you tons of money. Think about it: the average manicure costs about $10 — that's a minimum of $40 a month on your nails! Or you can spend $20 buying all the at-home products you need for a DIY manicure and have enough to do your nails for at least three months. For me that choice is easy.