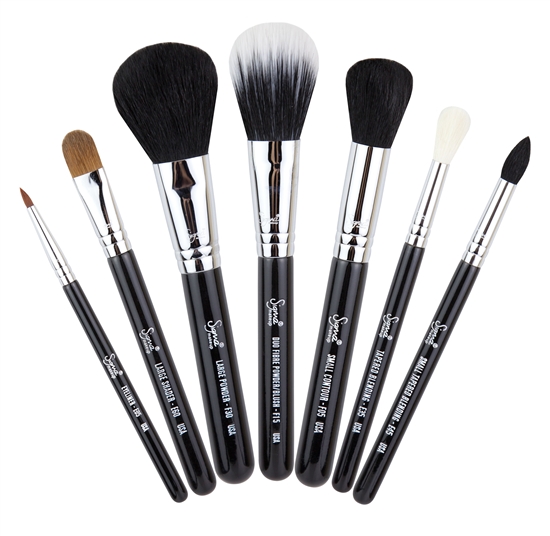 The right makeup brushes are a must for any makeup girl, and with so many real animal-hair bristles out there, it's hard to find synthetic versions that actually work well. Recently I discovered a brilliant Brazilian beauty company that offers some of the best in vegan makeup brushes I have ever seen.
Sigma is a brush, cosmetics, beauty accessories and skincare business that has an amazing collection of flawless synthetic brushes that work incredibly well. As I played with them, I realized that they work the same, if not better, than my real animal hair brushes. I love the Essential Kit ($120, sigmabeauty.com) that comes in Mr. Bunny (black handles) and Mrs. Bunny (blue and pink handles). There are 12 brushes in the kit that will do everything you need:
1. The Large Powder Brush ($21) gives cheeks a soft swirl of color.
2. The Duo Fibre Brush ($20) is perfect for swirling on cream blush.
3. The Large Angled Contour Brush ($16) is ideal for applying bronzer.
4. The Small Angle Brush ($10) precisely applies eye shadow as eyeliner.
5. The Pencil Brush ($10) smudges eyeliner to perfection to create the ultimate smoky eye.
6. The Foundation Brush ($16) smoothes on liquid makeup.
7. The Tapered Blending Brush ($12) sweeps on all over eye shadow with a smooth swipe.
8. The Concealer Brush ($10) is just the right size for under eyes.
9. The Eyeliner Brush ($10) can double as a liquid or cream liner brush, or you can clean it off, dip it into a little concealer and use it to spot conceal tiny imperfections.
10. The Medium Angled Shading Brush ($10) is a great crease contour brush.
11. The Eye Shading Brush ($10) can concentrate more drama at outer corners of the eyes for definition.
12. The Large Shader ($12) will sweep a layer of shadow across the main lid with ease.
The only things missing from this collection are a good powder brush and a lip brush, but they can be purchased separately. While you're at it, purchase a brush holder to keep them organized, and don't forget to regularly wash your brushes.