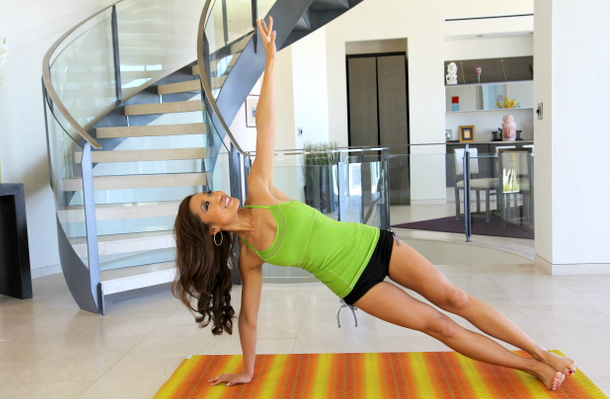 Even though we know that exercise is crucial for our minds and bodies, when life gets busy, our gym time is always the first thing that gets sacrificed. But if you have an internet connection, then you're lucky enough to have thousandsof workout classes that you can take from the comfort of you own home for free. Of course, it can be hard to wade through all the mediocre workout videos on the Internet in order to find the good ones. Before you know it, half an hour has gone by and you haven't even done a workout yet.
That's why we did the searching for you and rounded up 6 awesome online workout videos that you can follow along with, no matter what your current fitness level is. And the best part? Most of them are only 30 minutes or less. So grab your laptop, hit play on our favorite videos and get in shape!
1. Cardio Kickboxing.
You don't need a punching bag or boxing gloves to blow off some steam and get fit; just cue up a great kickboxing video and follow along. We like this 25 minute Cardio Kickboxing Workout video by FitnessBlender. Each step is clearly demonstrated and easy to follow along with so it's great for beginners. Plus the video counts down the seconds for each interval, and even keeps track of calories being burned.
2. Yoga.
You don't even need to follow along with a video to do yoga at home if you have a basic knowledge of poses. However, if you're a beginner or you just enjoy following a video, you can't go wrong with Tara Stiles. Her calm, encouraging voice and her gentle approach to yoga will have you doing tricky poses with confidence in no time. Her 10 minute Intense Cardio Workout Part 1 (above) is totally amazing, and if you have an extra 10 minutes, continue on to Part 2.
3. Kettlebell.
A decent kettlebell workout can totally change your life, but if you've never done one before, it can be INTENSE. Grab a light kettlebell (we like a 5 pounder) and follow along with this quick 10 Minute Kettlebell Workout by Amy of BodyFit. It's fast, challenging, and efficient (and we love how Amy manages to keep a bright smile on her face the whole time). Do this 10 minute workout every day, upping your kettlebell's weight whenever it feels too easy, and you're bound to see results.
4. Cardio hip-hop.
Answer us honestly: what's the best way to work out at home? If you answered "by dancing all over the house while blasting loud music," you answered correctly! That's why we love this card hip hop video mix by The Fitness Marshall. Featuring music by Miley Cyrus, Nicki Minaj and Britney Spears, it's more like having a dance party than a workout. It's a lot of fun, and you're sure to love it so much you won't even realize how sweaty and breathless you are until the music ends.
5. Pilates.
You don't have to go to the gym to get a good pilates workout in, thanks to Blogilates! Certified instructor Cassey Ho makes things fun and easy to follow along in this workout, temptingly named the Victoria's Secret Model Ab Workout. Give this short but tough pilates routine a try for stronger, more toned abs—and if once wasn't enough, do it twice in a row for an intense core burn.
6. Ballet.
It's never too late to sign up for ballet lessons! I mean, if Misty Copeland could start at 13 we can start at 30, right…? But if you don't feel like sharing a class with 5 year olds, you could just follow a ballerina's typical workout regimen at home for flexibility, grace, and a toned body. We like the Ballet Beautiful workouts by BeFit; Mary Helen Bowers leads you through this 15 minute routine that will both challenge and inspire you.
More from Daily Makeover: 4 Minute Workouts for Busy Babes.