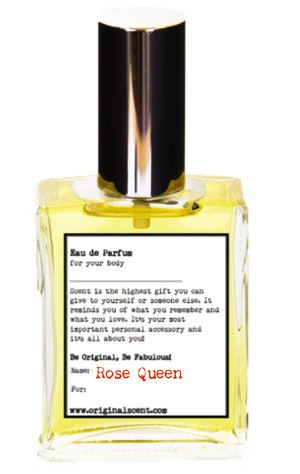 I remember receiving my first fragrance set, which contained three bottles of Love's perfume: Baby Soft, Fresh Lemon and Soft Jasmine. As a kid, I assumed getting three different perfumes meant I should mix them together to create a signature scent. As you can imagine, my early career as a perfumer was not a successful one.
Recently, however, I was introduced to Original Scent, a new company out of California that helps each client come up with a unique fragrance that they actually enjoy wearing. The experience of mixing and testing different scents was a real thrill, and the good news is that even those who don't live anywhere near California can create their own unique perfumes thanks to the company's interactive website.
Since perfume is something that is so easy to get wrong (think about all the times you've been offended by someone else's overpowering cologne), I asked Original Scent co-founder Sarah Horowitz to give me her rules for wearing perfume.
1. Wear what you love.
"I always say 'as in life, so in perfume,'" says Horowitz. "Knowing who you are and what you love are key to joy in any moment and experience, and finding the right fragrance is no exception. Ask yourself questions: Do you like things clean and fresh? Dark and spicy? Floral or sweet? Find a fragrance that turns you on and those around you can feel it. Don't wear something just because it was given as a gift or because it smelled great on your friend. It has to make your smile when you wear it."
2. Date before you commit by sampling first.
"Body chemistry is the final ingredient in any fragrance. What smelled fabulous on your BFF may not work for you or on you; not even if it is your sister or your mother. We all have unique body chemistry, and what works on one may not be so fab on another. Sample first on your skin and give it at least 20 minutes, if not longer, to work with your body chemistry, and see if it makes you smile."
3. Don't spray perfume in your hair.
This rule surprises me, since it's the opposite of what I've heard or read so many times before. Horowitz explains, "Many customers say that they spray their perfume in their hair to hold on to their fragrance all day long. Don't do it! Most fragrances on the market that you spray are alcohol-based, and alcohol is drying to the hair. However, hair is a great scent carrier. It holds fragrance longer than your skin (your body heat burns your fragrance off your skin as you wear it). If you want to have your hair fabulously scented like your fave scent, either have a shampoo or conditioner in it (we do this at Original Scent), dab a hint of the pure oil version on your fingers and run them through your hair, or if you only have your spray, spritz your scent on your hand, clap to burn off the excess alcohol, and then run your fingers through your hair."
4. Layer it.
"A great way to hold your scent all day long is to layer it. Body wash in the shower, body lotion or body oil to scent and moisturize, and then your pure oil at pulse points, and your eau de parfum for the finishing touch."
5. Change it up.
"You may be a signature scent kind of girl or have a full-on fragrance wardrobe. Either way, it's fun and reflective of who you are to pair your fragrance to your mood or experiences." Horowitz suggests alternating between a lighter fragrance for the day and a darker, spicier one at night or changing fragrances with the seasons. "Your fragrance is the most powerful and memory-creating form of self-expression. Use it with intention, and enjoy the results."
Do you have a signature scent? Tell us!