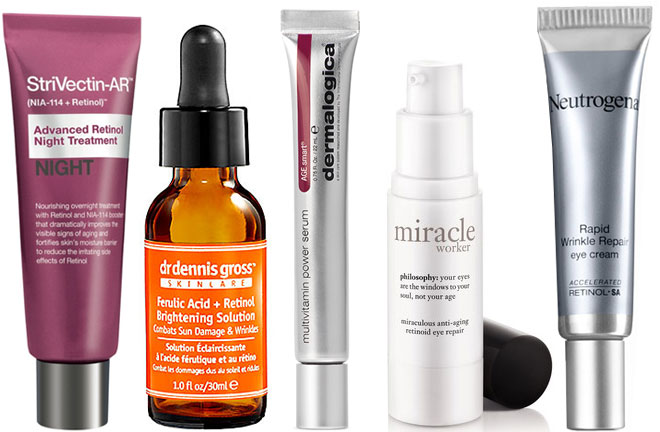 "Anyone who is serious about anti-aging should be using a retinol regularly," says Dr. Dennis Gross, NYC dermatologist and founder of the product line Dr. Dennis Gross Skincare, who explains this ingredient will "leave skin looking brighter, younger, and more alive" (sounds good to us!). This over-the-counter cousin to prescription forms of vitamin A (like those found in Retin-A and Renova) works by helping skin shed faster and speeding up its renewal cycle.
According to Dr. Gross (and almost every other derm we've ever consulted), "Retinol works dramatically well, which is why there are so many retinol products out on the market right now." To help you find the best one for your skin, we've narrowed down a few retinol-based products targeted toward specific concerns.
For Sensitive Skin
StriVectin-AR Advanced Retinol Night Treatment ($109, strivectin.com) combines retinol with niacin, which the company found to help protect skin against the redness and inflammation that often come with retinol use.
Dermalogica's new Multivitamin Power Serum ($65, dermalogica.com) also promises to decrease wrinkles and age spots while minimizing side effects. The active ingredient, HydroxyPinacolone Retinoate (HPR) is an alternative to traditional retinol that's gentler on skin. And the formula contains vitamins C, E and F in a new type of encapsulated delivery system that helps these antioxidant ingredients penetrate more effectively.
For Eye Area Wrinkles
Philosophy's newly reformulated Miracle Worker Miraculous Anti-Aging Retinoid Eye Repair ($65, available in January at philosophy.com), like the Dermalogica product, also features HPR, which makes it gentle enough to use on the delicate skin around the eyes. For fast results, try Neutrogena Rapid Wrinkle Repair Eye Cream ($20.99, neutrogena.com), which uses time-released retinol SA to keep the active ingredient working longer on skin.
To Brighten and Correct Dark Spots
All retinols help even out skin tone, but the new Dr. Dennis Gross Skincare Ferulic Acid + Retinol Brightening Solution ($85, sephora.com) soups up the active ingredient by combining it with brighteners like azelaic amino acid, bearberry and ferulic acid. "Both retinol and ferulic acid have many of the same benefits, but their mechanisms of action are different," Dr. Gross explains. "The effect is greater than the sum of the parts when used together (1+1=3)."
How To Use It
Stop before you slather; the way you use retinol products is just as important as which formula you choose, says Dr. Ellen Marmur, dermatologist and Founding Director of Marmur Medical and author of Simple Skin Beauty.
Use retinol at night. "A lot of the rejuvenation processes occur during the sleep cycle," says Dr. Marmur. And retinol "becomes inactivated by the sunlight, so you're wasting your money by using it during the day."
You only need a teeny, tiny bit. Squeeze out a pea-sized amount of product and use your finger to, "make tiny little polka dots on your forehead and nose," says Dr. Marmur.
Avoid dry areas. During winter, use retinol on the upper half of the face only. "I notice in the wintertime, so many women get that chapped skin around their entire mouth area. You don't want to exacerbate that, so skip that area."
Start slow. Dr. Marmur recommends starting with retinol twice a week and working up to three to five nights a week. And don't change up the rest of your routine until you've acclimated. "You can add in a new product the next month, but give your skin a full cycle, which is about 28 days, to adjust to any new product."
Have you seen results from a retinol? Which ones have you tried?