If you all didn't know it already, Ted Gibson and I are an item. We are partners in business and personally. (I have to let you know I hate it when couples call themselves partners….we call each other husband.) We have been a couple since I met him when he was my teacher in beauty school 15 years ago!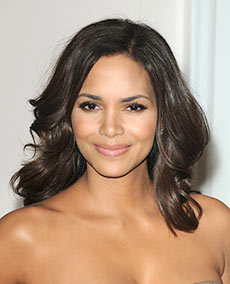 Halle Berry's hair color has a rich,
neutral brown base and beautiful variation
Photo: Sara De Boer / Retna Ltd.
Because we are both involved in so many different things we get the chance to meet so many different people and get invited to some really cool stuff. I mean really cool stuff – like the kind of stuff that I catch myself looking around a room thinking "how in the world did this kid from Northern Minnesota end up here?" Well, last Thursday was definitely one of those events.
I had the incredible opportunity to be Ted's +1 at an event (if you haven't heard of being a +1, it's the same as "and guest" – so Ted got an invite and was told he had a +1 and by default, I am the +1). We went to the Beverly Hills Hotel for the 2nd Annual Essence Black Women In Hollywood Luncheon. MAJOR!!!!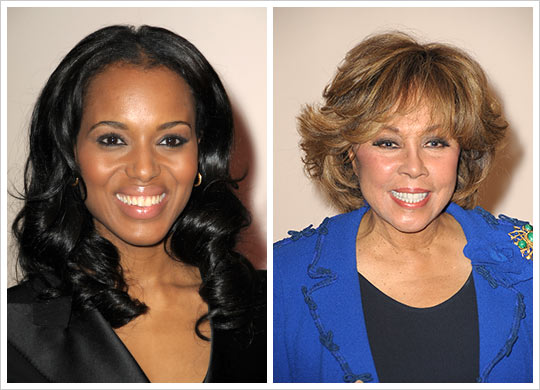 Kerry Washington
Photo: Jordan Strauss/WireImage.com
Diahann Carroll
Photo: Jordan Strauss/WireImage.com
The dining room had less than 400 people in it (I think I counted about 40 tables of 10) and the room was PACKED with celebs. Everyone from Academy Award winning actress Halle Berry and nominee Taraji P. Henson to icons like Diahann Carroll and Marla Gibbs to mega star Queen Latifah (by mega I mean a Golden Globe, two Screen Actors Guild Awards, two Image Awards, a Grammy Award, six additional Grammy nominations, and a nomination for both an Emmy Award and an Academy Award – on top of all that she's a Cover Girl – MEGA STAR), along with everyone else from Kerry Washington to Mo'Nique and Miss Omarosa herself (she sat at our table – or did we sit at hers…). The event was so inspiring on so many different levels that it truly was a highlight for me.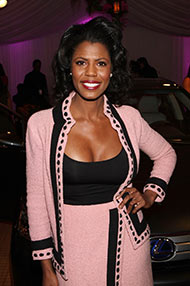 Omarosa Manigault-Stallworth
Photo: Arnold Turner/
WireImage.com
AND there was some good hair color!
When you look at Queen Latifah and Dihann Carroll you can see that really, like I have said before, any woman can be a blonde – it's just a matter of finding the right blond for you! I actually got a good laugh when Ms. Carroll was accepting her Icon Award and announced her color wasn't natural "It's Clairol"! The two of them looked amazing. When I was introduced to Queen by Omarosa (just imagine that moment for a moment!) and everyone was talking about where they had met before all I could add was "I listened to your Dana Owens CD in my car the other day" – dork.
I also loved Halle Berry's color. It is right in line with the gorgeous brunette trend we have been seeing. The color has a rich neutral brown base and some beautiful variation running through it from tone on tone highlights. I have to add – in person, this woman is so amazingly beautiful it is devastating!
What trends have you seen on the red carpets? LMK