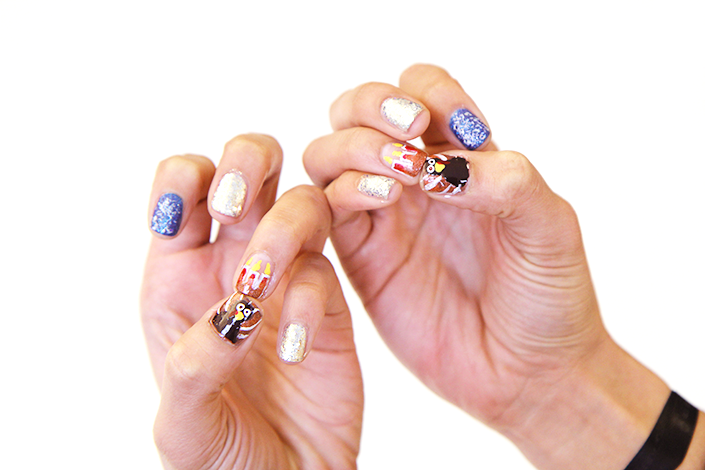 While we are lucky enough this year to have both Thanksgiving and Hanukkah celebrated on the same day, we can't help but freak out that our nails must be done for both occasions.  As part of every holiday tradition, nail art is a must, but what is a girl to do when there are two holidays to celebrate on your fingertips?  We have the perfect answer for you (of course) and created the highly requested "Thanksgivukkah Nail."  Follow step-by-step below to achieve the perfect nail for this celebration overlap. It's a sure way to solve your nail stress and focus on what is important, reaching for all of those holiday desserts.
MORE: Thanksgiving Nail Art: Get Turkey-Ready With These Designs
Gather all of your colors that are needed for the tutorial. We chose to use a blue and silver on the base fingers, as well as a brown, orange, yellow, red and white to create the Thanksgivukkah turkey. Be sure to also have a dotter, nail polish remover, and a base coat on hand.
Take your clean nails and apply a base coat to them. Make sure to let this dry well.
Next paint the index, middle, and pinky fingers the color of your choice.  We opted for glitter type polishes for a little extra flare (using Essie's Belugaria collection), but be sure to do two coats.
Next take the ring finger and outline "Menorah-like" candlesticks that also resemble feathers.  Be sure to leave negative space near the cuticles of the nails and just paint near the tip.
Move to the thumb and paint the background with a base light brown, allowing a good amount of time to dry.
Go back to the ring finger and ombre a red, orange, and light brown color down the candlesticks (or in this case, turkey feathers).  Grab your dotter and dot on little yellow flames at the ends of the feathers/candles.
Take the thumb nail and begin to outline the turkey's body with a dark brown.  Give him a circle head at the top of the nail and from there, oval out a body.
Finish up the ring fingernail by outlining the feathers/candles with a white design polish that has a long and skinny brush.
Now, go back to your turkey and place two white eyes with the dotter, and then smaller black dots on the inside of the eyes.
Grab your yellow polish and create a small triangle right under the eyes, resembling a beak.  Then take your red shade and lightly shimmy a little bit of polish next to the beak for an adorable gobble.
Ombre the background of the turkey using the orange, red, dark brown, and light brown, to match the feathers/candles.  Be sure to take the same outlining polish you had in white and outline the feathers starting from the turkey itself.
Your nails are complete! Finish with a top coat and then go grab yourself a second helping of pumpkin pie and play some dreidel, simultaneously of course.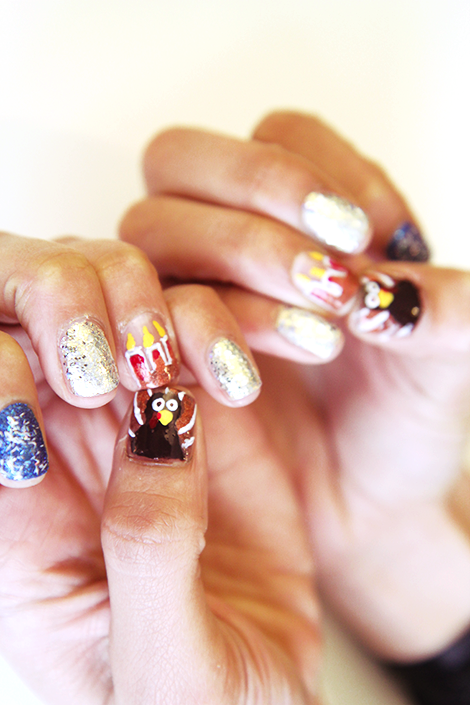 Photos by Rolando Robinson