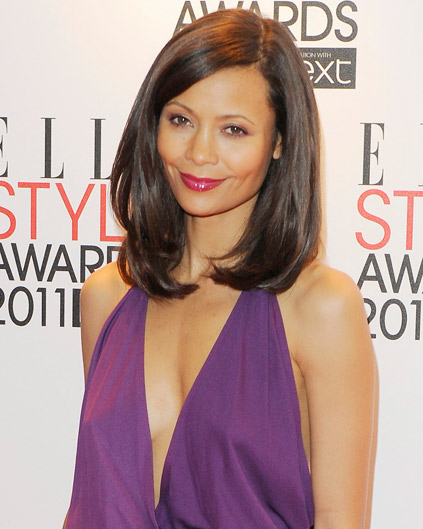 Photo: © Tristan Gregory/CAMERA PRESS/Retna Ltd.
Thandie Newton is one of those enviably ageless celebrities (think Halle Berry, Jennifer Aniston, and Jennifer Garner). As she nears the big 40, Thandie looks no different today than she did seven years ago when she was that hottest new "It' girl, thanks to her smashing performance in the movie Crash. So, it's no surprise that anti-aging skincare giant Olay has signed Thandie to be its newest brand ambassador. Her flawless and glowing skin has always been one of her most alluring features. "My mom used Olay when it was called Oil Of Olay and she has beautiful skin, so I've always used it too. This collaboration is a natural fit. My favorite cream is Olay Total Effects because it has lots of vitamins and antioxidants," she told us in an exclusive interview.
Foods That Help You Lose Weight
But slathering on good-for-you ingredients only scratches the surface of her skincare regimen. "Skin is the middle man between what's in you and what's coming at you, so what you put in your body is as equally as important. I've recently started juicing and it's amazing. I'm in a play now (Death and the Maiden) and I wasn't feeling great. I was tired, not eating well, and putting on weight. Then, I started following my naturopath Elizabeth Peyton-Jones' juicing recipes, you can find them in her book Eat Yourself Young, and I feel fantastic," she enthused. Thandie's not alone, as it seems that all of Hollywood has jumped on the juicing wagon. Gywneth Paltrow, Nicole Richie, and Olivia Wilde are just a few who've recently gone on record touting the benefits of juicing: reduced bloating, improved digestion, soaring energy, and of course, improved skin radiance. We've also seen juice diets and detox regimens from companies like Blueprint, Organic Avenue and Pressed Juicery become increasingly popular, making combinations like spinach, kale, beets, lemon and aloe actually taste surprisingly refreshing.
Foods That Make Your Hair Look Fabulous
In addition to juicing, Thandie swears by Jivamukti Yoga, which she's been practicing for two years, and has been a long time vegetarian. "But even vegetarians can have a sluggish system if they eat a lot of bread and cheese. It's key to make sure you have a lot of color on your plate. The more colorful the food, the more beneficial it is," she says.
When it comes to makeup, Thandie's a proponent of the "less is more" theory. "Glowing skin in winter is gorgeous, and you shouldn't cover it up with too much makeup. If you have greyish under eye circles, use a concealer with an orange tint to neutralize it and brighten up the area. I'm excited that YSL Touche Éclat has expanded their shade range, so now I can wear it. I'm also a big fan of a bright red lip, and nothing else. That's all I'll do for Christmas day, when I have a ton of things to do, like running after the kids and trying to put the dog in his costume," she laughed. We'll need a picture of that!


Try on Thandie Newton's hairstyles in the Makeover Studio!