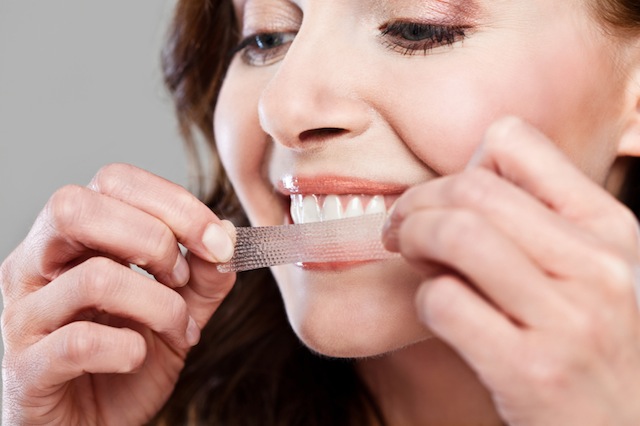 Let's face it, smiles are important. They are the universal language and seeing someone smile can create lasting impressions on you without even realizing it. From smirks, to cheeky grins, to mega-watt smiles, every smile is original, but one thing they all have in common is they represent happiness. But, ever since celebrities started flaunting their pearly whites all over the red carpets, America has become borderline obsessed with getting brighter, whiter smiles.
If whiter teeth will make you more confident and more likely to share your smile with the world, then whiten away! Just make sure you know all of the facts first before you try and achieve that movie star grin.
1. Visit a dentist first. Taking a trip to the dentist may not be everyone's favorite thing to do, but it's definitely a necessity, especially if you're thinking about whitening your teeth. Healthy gums and cavity-free teeth are two requirements needed in order to start whitening, so seeing your dentist can help make sure you have those things.
2. Try the natural way. Before you start spending your money on bleaching kits and whitening strips, why not try nature's organic teeth whiteners? There are so many foods that will help brighten your smile in a safer, tastier, and less expensive way. Strawberries, apples, celery and dairy are some, just to name a few.
MORE: 10 Things No One Ever Tells You About: Bold Lipstick
3. Don't overdo it. Over-whitening your teeth can weaken your tooth enamel and actually cause your teeth to appear translucent or even gray.
4. Sensitivity may occur. While whitening your teeth, and possibly for a short time after, you may experience sensitive teeth. This happens because a layer underneath your tooth's enamel becomes exposed during the whitening process. So people with already sensitive teeth, proceed with caution.
5. Baking soda is harsh too. Many people think that using baking soda to brush or whiten your teeth is a safer alternative than whitening products, but actually it is more abrasive. Yes, baking soda will remove your teeth stains, but it is so strong that it can eventually cause the enamel of your teeth to erode.
6. Only people with yellow teeth can benefit from whiteners. Teeth whitening it almost always successful for people with yellow teeth, however patients suffering with gray or brownish colored teeth will have no such luck.
7. Look at the percentage of peroxide in the product before buying. At-home teeth whitening kits contain peroxide varying in percentages from 10% to 20%. If you are new to the whitening game, start with a product with a lower percentage. If you can handle the lower percentage and no problems occur, then pick a product with a higher concentration next time.
MORE: 10 Things No One Ever Tells You About: Getting a Wax
8. Bleaching trays can be tricky. If you are using a whitening mouth guard that doesn't fit your mouth properly, then you should probably stop. If the mouth guard doesn't fit, the gel inside the guard can come in contact with your gums. If the percentage of peroxide in the gel is high, you could actually end up burning that soft tissue or causing irreversible damage to your gums.
9. Kids under 13 should not be whitening. Children have very porous and sensitive teeth so whitening or bleaching is not advised. Definitely see a doctor if you're under the age of 13 and thinking about whitening your teeth.
10. Use a straw! So if our under-the-radar facts about teeth whitening haven't scared you off and you're still looking for that dazzling smile, make sure after you whiten you remember to use a straw! Drinks like coffee and soda are very acidic and can cause discoloration so next time you sip on one of those drinks, use a straw so the food dye and acid can bypass your teeth.
Image via Istock