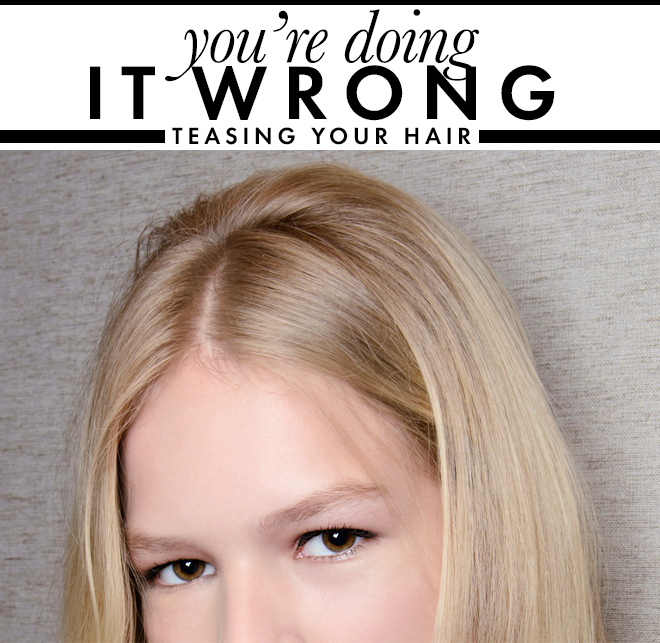 It's obvious why the average woman doesn't tease her hair on a daily basis. The volumizing trick takes skill, lest you resemble a '70s country singer, or worse, a star on "Toddlers & Tiaras." The most common mistake women make is simple enough—using the wrong equipment.
"The most common mistake I've seen is women using a big paddle brush to tease their hair—you have a lot less control and this gives more of a birds' nest effect versus effortless volume and a smooth finish," says Herbal Essences celebrity stylist Charles Baker Strahan. Instead, he recommends using a small comb.
"For a beginner, I would recommend thinking about exactly how much volume you want and where you want it before you dive in," says Strahan. Decide whether you want volume all around or focus just at the crown. He suggests starting slowly and adding more as you go.
Start with a base of dry shampoo, such as Herbal Essences Body Envy Dry Shampoo ($6.99, walgreens.com), to add lift and texture that the tease can build off of. "To tease the hair, backcomb by lifting up small ½-inch sections and combing the hair underneath each section from the mid-shaft back toward the scalp in circular motions. Then, flip the section back over and smooth over the top of the hair with your comb. This will ensure both a smooth finish with the added volume you want."
Strahan gives the ultimate advice on how to avoid the obvious tease faux pas. "Count! For a balanced and symmetrical look, count how many times you have backcombed each section in that circular motion. Then, if you want a little more or less volume for different sections, you know how many times you'll need to tease to get the look you want." Practice makes perfect.
Read more: 20 Tips and Tricks For Thicker Looking Hair