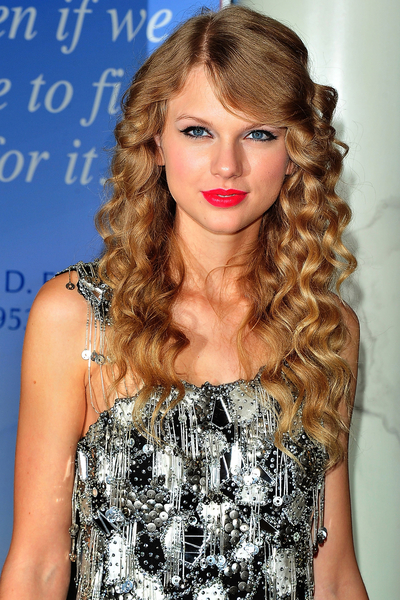 Photo: © Brian Killian/WireImage
Ever wonder how Taylor Swift keeps those luscious locks of hers looking so amazing? We went straight to the source to find out how the stunning singer gets those enviable strands.
Taylor says that it actually takes very little product to keep her signature curls in check. "I started adding product to my hair in high school. After awhile, I didn't like the feeling that there was all this texture in my hair–it felt too product-y. Now I don't put any mousse or product into it. I just let it be and if it looks frizzy, I try to smooth it down," she says.
While she's known for those soft curls, Taylor says she likes to change it up every so often. "Having naturally curly hair, it's always easier to wear it curly, but I do like changing it up–it's fun."
Going super-short, à la Emma Watson, is a big trend right now, but it's not likely you'll see Taylor rocking a crop anytime soon. "For awhile there I was going through a phase where I thought I wanted to cut my hair short. So I had my hairstylist pin it up really short for a couple of awards shows and I realized that I definitely shouldn't cut it–I would miss having long hair."
Taylor describes her red carpet style as retro-glam. "My red carpet hairstyle inspiration sometimes comes from the dress and sometimes it's a phase I'm going through. I've recently been doing Old Hollywood and translating retro styles into a contemporary look," she says.
So how did she decide to wear that controversial sleek and straight hairstyle at the American Music Awards? "I decided I wanted to straighten my hair for the AMA's because I woke up one night and had this little epiphany like 'I think I want to straighten my hair for this awards show,' and then I rolled over and went back to sleep."
<a href="
/virtual-makeover/celebrity-hairstyles/taylor-swift/11405″&gt/
;

Try on Taylor Swift's hairstyles in the <a href="
/virtual-makeover/celebrity-hairstyles/taylor-swift/11405/" title="Taylor Swift">Makeover Studio!