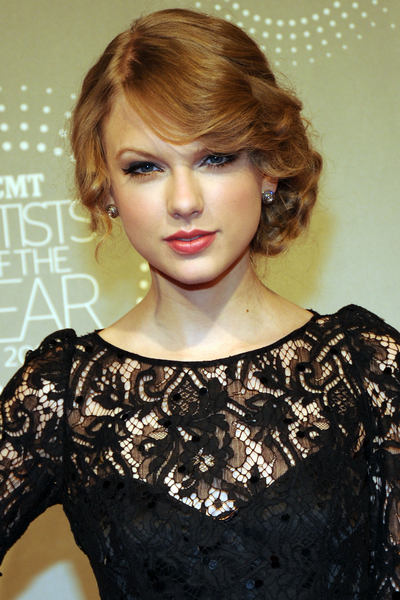 Photo: © Rick Diamond/Getty Images for CMT
With her gorgeous looks and sweet-as-pie personality, Taylor Swift was practically tailor made to be a CoverGirl. This January, the soon-to-be 21-year-old star joins the likes of Drew Barrymore, Ellen and Rihanna as CoverGirl's newest spokesperson with her upcoming campaign for the brand's new NatureLuxe line. "I used to always make it a point to see who the next CoverGirl was," says Taylor. "Some of the choices they've made are people that I really love and respect for all these different reasons–they are all kinds of beautiful. I think it's really cool to be part of a family that thinks that individuality is beautiful."
The new NatureLuxe Silk Foundation and Gloss Balm that Taylor will be promoting in her upcoming ads are a new, natural approach to makeup for the brand. They switch out heavier, synthetic ingredients for lighter, more natural hydrators like cucumber water, jojoba, rosewater, shea and mango butter. "I think that NatureLuxe means that makeup doesn't have to feel like paint. It's really light and airy and makes me feel like I don't have to take things so seriously because my makeup isn't so seriously heavy," she says.
Taylor, who counts Charlize Theron and Natalia Vodianova as her beauty idols, admits she's been a big fan of CoverGirl products since the early days of her career. "My favorite is LashBlast mascara. I went to four magazine shoots in a row and all the makeup artists were using it, so I've been using it ever since," she says.
Taylor told us that liquid eyeliner is the makeup item she absolutely can't live without, but she totally shocked us when she explained how she first came to start using it. "I was on a plane to Japan about two years ago and I had no makeup with me, so I went into the bathroom and I used a Sharpie to line my eyes. From that point on I started using liquid liner because I realized it was obviously pretty easy for me to do! I definitely don't recommend drawing on your eyes with a Sharpie though," she says.
The gracious superstar credits her mom with introducing her to makeup. "My mom was always really sweet and would put a tiny bit of makeup on me because I was always begging for makeup. That made me feel like I got to be big like her and dress-up," says Taylor. "She was always really sweet when I wanted to try makeup in middle school and I was horrible about it. She's always been really cool about, let's call it 'artistic expression.'"
<a href="
https://stylecaster.com/virtual-makeover/celebrity-hairstyles/taylor-swift/11818″&gt
;

Try on Taylor Swift's hairstyles in the <a href="
https://stylecaster.com/virtual-makeover/celebrity-hairstyles/taylor-swift/11818" title="Taylor Swift">Makeover Studio!