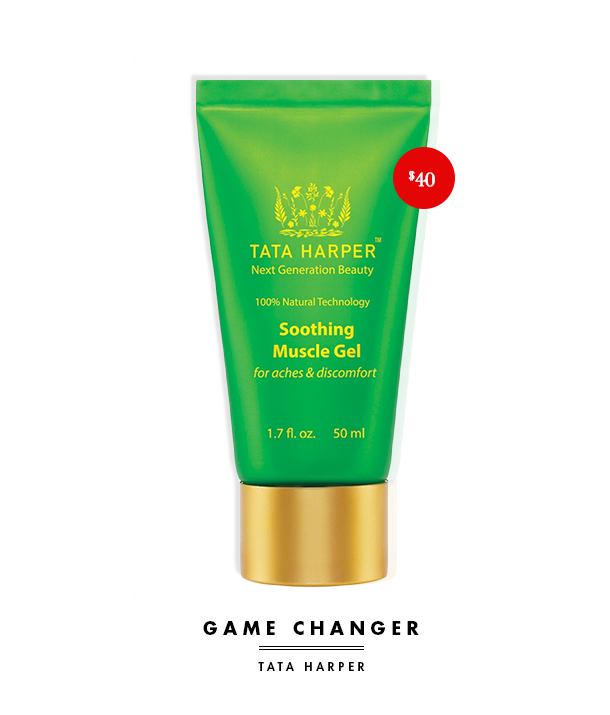 I have a pure love-hate relationship with muscle pain. I view the tiny, glorious tinge of pain as a sign that I worked hard in a crazy intense gym session, but I don't love feeling like my legs are going to fall off while I'm walking up the stairs during my daily commute. Inevitably, I set out on the search for relief.
I live for chilly ice baths and time with a heating pad, but believe it or not, a new beauty product has actually made world of a difference in my post-workout recovery routine. Let me introduce you (and your triceps) to Tata Harper's Soothing Muscle Gel ($40, nordstrom.com).
I'm a big fan of this brand for their 100 percent natural beauty products, so I was immediately intrigued by Tata's solution for sore muscles. And while Icy-Hot was my jam when I was 17, smelling like a walking after-dinner mint doesn't really appeal to me anymore.
To me, this product is pretty much the grown-up, more natural version of that athletic staple. It's a cooling lotion made with ingredients like arnica extract, blue cypress, lemon peel, ginger, and tumeric oils, plus aloe and shea butter oils, all of which work together to sooth, relieve pain, and moisturize. Once you apply it, you feel it kick into gear immediately, dulling the pain in a specific area.
It has sort of a menthol-y, minty smell but isn't too overbearing and definitely won't clash with your perfume. The directions say to apply a generous amount to a given area and to rub it in until it's fully absorbed. I find that doing this with a massaging motion provides extra relief.
It's a temporary fix for sure, but it works wonders when you're trying to take the edge off, especially the day after an impossibly difficult boxing class–not that I know from experience or anything. This gel has genuinely changed my gym game—and I know it'll change yours, too.
More From Daily Makeover: Do Facial Exercises Actually Work?