I recently mentioned to my right hand at Beauty High, Amanda Elser, that I was looking a bit pale as of late — as she sat by the vanity mirror dousing herself in bronzer. With the weather warming up, everyone (especially those blessed with fairer skin) wants to add just a touch of color to our "porcelain" skin tones. But, many of us have learned over the years how to do it in a way that doesn't harm our bodies.
If you're anything like me, you most likely have used a tanning bed before. I loved going to the tanning salons in high school with my friends. Honestly the beds were just so warm (it was almost like a stress reliever) and you popped out in 10 to 20 minutes with a vacation glow. It wasn't until I was in college that I learned the dangers of those beds (obviously I had been warned as a teen, but who really listens to anyone at that age?). I wised up and haven't set foot in a bed ever since — and haven't looked back.
Numerous studies have been published in recent years about the dangers of tanning beds, the most recent one coming out just this month in the Mayo Clinic Proceedings reporting that between 1970 and 2009, the incidence of melanoma increased eightfold among young women and and fourfold among young men (ages 18 through 39). Mayo Clinic dermatologist Dr. Jerry Brewer said, "We knew we would see an increase in rates among young women, but we were surprised that we saw such a dramatic increase. This seems to be higher than what has been reported previously."
In 2009, the International Agency of Research on Cancer declared tanning beds a human carcinogen, moving them into the top cancer-risk category alongside cigarettes. According to Brewer, "Tanning beds can give you seven times the dose of UV radiation as the sun, but young adults are still going."
Luckily, Brewer also noted that the mortality rates have improved, credited by researchers to early detection. "People are now more aware of their skin and of the need to see a doctor when they see changes. As a result, many cases can be caught before the cancer advances to deep melanoma, which is harder to treat," said Brewer.
Many states have tried to ban tanning booths for teens and young adults, which Brewer and his researchers are in full support of, but they also state that this is obviously a difficult task. "It's like trying to ban cigarettes — it's very hard. Should we be limiting tanning beds? Absolutely. Is it easy? Absolutely not. Many states do have bans, but kids are smart. We say, 'You need a parent's signature,' and the kids write the signature themselves," said Brewer.
All we can do in the meantime is spread the word about what to look for when it comes to melanoma. Known as the ABCDE's of melanoma, you should learn the below and watch out for them. And of course, go for annual skin checks!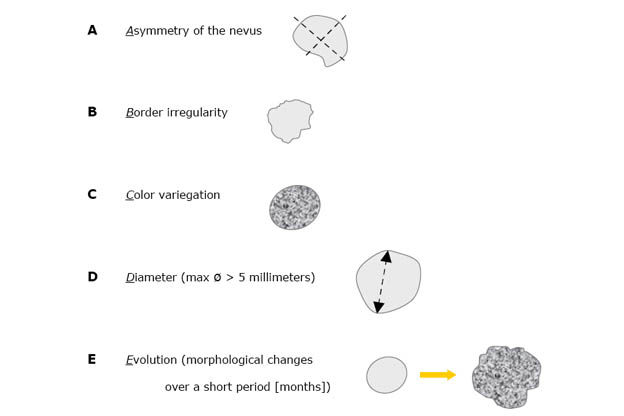 Do you use tanning beds? Have you ever lied to your parents about going to a tanning bed? Let us know in the comments below!
[TIME]