One thing about living in the city: you're always schlepping.
At least when I lived in Boston I drove everywhere. I'd drive to my tanning place which was the equivalent of 5 NYC blocks away and then I'd get in my car and drive across the street to get coffee. In New York you don't have that luxury.
I am now a slave to the public transit when I come into Manhattan for work. And let's be honest, we women literally have a lot of baggage! We have our purse, our huge computer bag, our gym bag. It's never ending and the constant movement of hoisting your bag on your shoulder is a work out in itself.
Personally I have my own climate. I walk outside and start sweating in the first 4 seconds. I'm like my own personal rainforest. So it's no wonder that when I finally arrive home from a hard day of trudging through the streets of Manhattan all I want to do is remove my makeup and wash my face.
But sometimes just a face wash isn't enough. Sometimes I need a serious cleanse after an 89 degree NYC August Wednesday.
That's when I break out Fresh's Umbrian Clay Face Mask.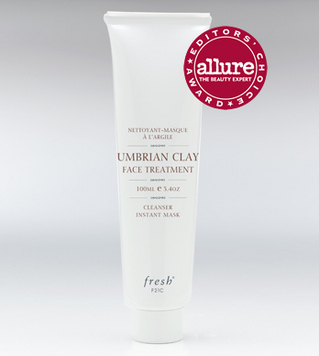 Made with real clay from
Nocera Umbra
in Italy this product is great for all skin types but perfect if you have oily skin. It can be used as a facewash or a mask. I like to wash my face with
Fresh Soy Face Cleanser
(another one of my favorites!) and while my face is still wet, slather on the Umbrian Clay Face Treatment. It takes a while to dry so I'll do various tasks like laundry or just sit on my couch to catch up on DVR.
After about 30 minutes I'll wash the mask off to reveal, practically new skin! All traces of city sludge are washed down the drain and my skin looks soothed and refreshed.
Also, you can use this product as a spot treatment. Every once in a while I'll get a zit the size of Jupiter on my chin. I dab Umbrian Clay on the spot and the anti-inflammatory properties of the mask immediately turn my once planet sized imperfection into a mere dot on my face. It really is that good.
If you are looking for a sure fire way to detoxify your face try Fresh's Umbrian Clay Face Treatment. Let me know how it works out for you!