At Daily Makeover, I am constantly writing about the latest celebrity makeovers and beauty trends. It's basically the best job ever. The only problem? I have yet to put my makeover where my mouth is. Until recently, that is.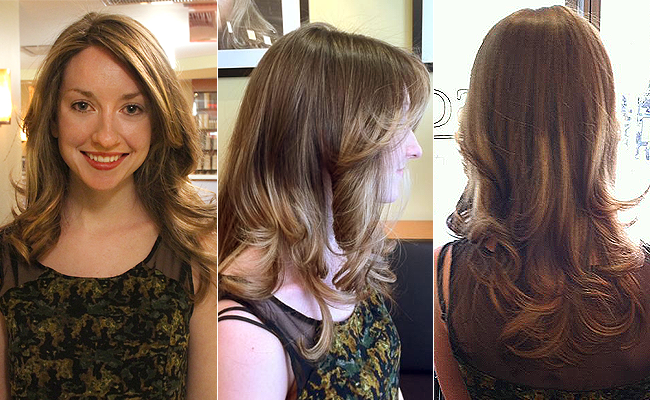 I first fell in love with the ombré look when I saw it on stars like Jessica Biel and Rachel Bilson, but I sort of chalked it up to a celebrity look. A couple of months ago, though, I was walking out of a beauty event when I noticed a girl with the most beautiful hair ever. She had dark brown hair that gradually faded into caramel hued curls. I had major hair envy, and knew if a normal, non-celebrity could pull it off, so could I.
Since this was my first foray into hair color, I decided I needed some professional help. What I got was even better: Kyle White, lead colorist at the Oscar Blandi Salon. He is the hair color genius behind stars like Mariah Carey, Maria Menounos, Robin Wright, and Tinsley Mortimer. You know when you read that celebrities will pay to fly their colorist to them? Yeah, he's that guy for a lot of stars.
Why Celebrities Love Balayage Highlights
Kyle carefully hand-painted a honey hued color onto different sections of my hair. Since he's not a fan of ombré that looks too harshly contrasted, he also gave me some face-framing highlights that started at the the top of my head. After the entire coloring process was finished, I got a blow out and large barrel waves, which Kyle favors for the ombré color.
It's been a few weeks since I got my new look, and I am still loving it. As recommended by Kyle, I've been using Oribe's Shampoo ($36, Oribe.com) and Conditioner ($39, Oribe.com) for Beautiful Color, and it has kept my hair looking shiny and healthy. Most importantly, I love that almost after a month, I still don't look like I need a touch-up of any kind. Check out the video below to see Kyle (and my hair) in action!