Britain's Got Talent singing sensation Susan Boyle, who has become an unlikely global celebrity overnight, has undergone a virtual makeover!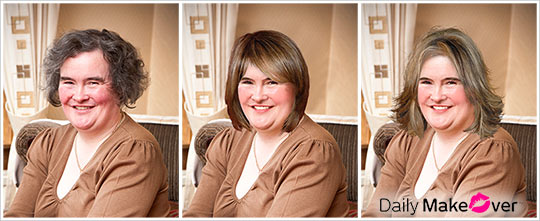 Before
Susan Boyle
Photo: ZUMA
Boyle, a 48-year-old Scottish charity worker, electrified viewers with her rendition of "I Dreamed a Dream" from the musical Les Miserables during Saturday's Britain's Got Talent. The video clip of her performance has become a global YouTube hit.
When Extra contacted us this morning to help them give this singing sensation a makeover, we couldn't resist! We kept her look natural, but evened out her skintone with foundation, groomed her brows and opened up her eyes with mascara and soft grey liner.
As for her hairstyle, we tried two looks–a tousled bob and a sleek bob with bangs. Longer, sleeker hair gives her a more polished effect. I prefer the look with the bangs–they give her face more contour. Which do you like? Vote on Extra.com.
What does a makeover mean to you? Take our survey and tell us what you think. We'd love to hear from you!