So you must know by now that the most important thing in maintaining a youthful healthy complexion is, of course, sunscreen. A high SPF will keep you free from sun spots, premature aging, wrinkles and, most importantly, skin cancer. Leathery skin is so not sexy, so by loading up on the protection and guarding yourself against the harsh rays of the sun, you can stay looking like your gorgeous self for far longer than those sun-worshiping raisins laying out this time of year.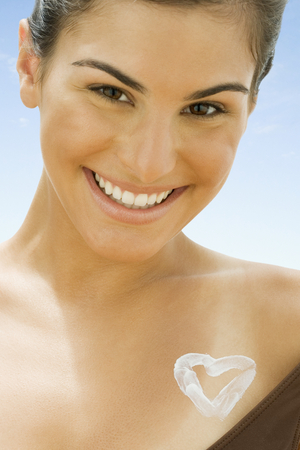 Besides my usual coating of my favorite sunscreen SkinCeuticals UV Sport Defense SPF 45 (I'm obsessed), I'm always on the hunt for new and extra ways to guard myself against those nasty UVA and UVB rays. Three new and fantastic additions to the protection arsenal come from very unusual sources.
The first one is a new three-in-one shampoo, face and body wash called Klen. This broad spectrum SPF 15 washes on in the shower in one easy step. It's a new revolutionary technology that utilizes a positively charged delivery system, which attracts the negatively charged skin during washing and stays on your skin after rinsing and drying. There is absolutely no greasy residue, and it's full of my favorite antioxidants—so it's great for the skin.
The next cool way to stay protected is by wearing something from the fantastic new line of clothing called Mott 50. This chic UPF (ultraviolet protection factor) 50 clothing company offers tunics, safari dresses, cargos, hats and more and has your sunscreen built right into the fabric. Most women believe that if they just throw on a thin cotton top they will be protected, but in fact that will only offer you a UPF of about 5, which is not enough to prevent much of anything. Mott 50 is recommended by the cancer foundation and is a much more stylish way to ensure your sun safety.
It is never too young to start protecting your skin, and those of you with little ones, you know how hard lathering up your kids can be at the beach. Well, let them have fun and hand over the new line of Sunbow sunscreens. Dora The Explorer and Sponge Bob Square Pants get kids excited to paint up their faces and bodies with these bright colored pink and yellow sunscreens that dry clear and do not rub off on cloths. Your kids will be applying it themselves with the help of their favorite characters, and you can breathe a sigh of relief that nobody will get burned.
As an established makeup artist, many beauty brands send me samples of their latest products for consideration. I only write about the items that I truly love and I always abide by Daily Makeover's Editorial Ethics Pledge in each of my Positively Beautiful posts.