Summer is just around the corner, and with the sun's rays starting to peek out and your skin becoming more exposed with the change of wardrobe, it's your favorite time of year: time to shop for sunscreen! This year, your favorite beach bag must have has gotten a makeover. As of June 2012, the FDA is putting into effect some super important and necessary regulations for sunscreen. If this sounds a little daunting, don't fret. There are a few changes you'll need to keep your eyes peeled for to make sure you're buying the right kind of sun protection. Next time you head to the sun protection department of your favorite drug store, look for products with the following label changes, laid out in the infographic below: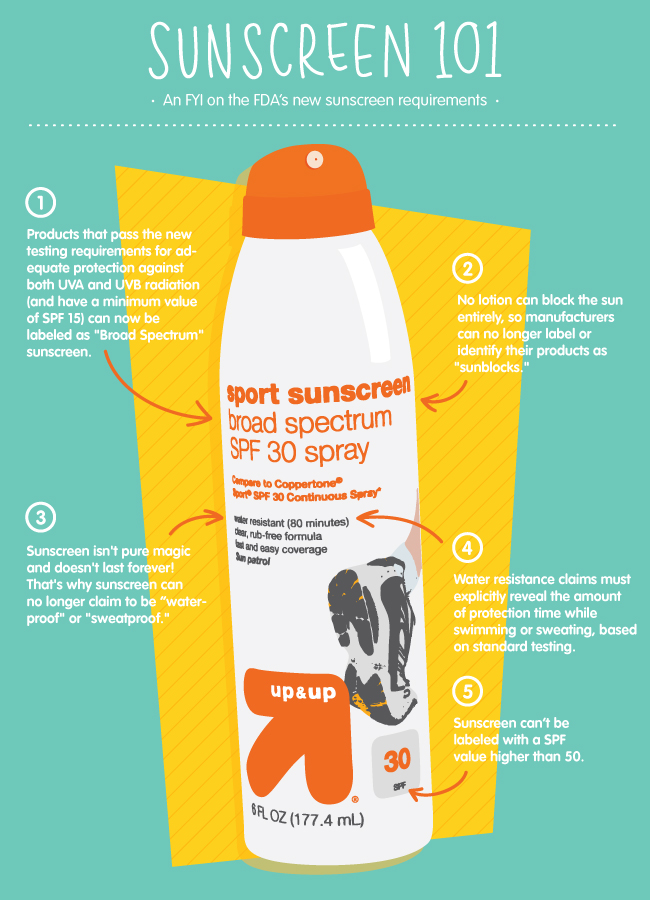 Key things to note:
Look for labels that say "sunscreen" instead of "sunblock."
If a product is labeled "Broad Spectrum," it means it's up to regulation for UVA and UVB protection, plus an SPF of at least 15.
Descriptions like "water resistant" and "sweat resistant" should be on bottles instead of "waterproof."
Check for an amount of time next to the label "water resistant" (i.e. 80 minutes).
Sunscreen will no longer be able to be labeled with an SPF level higher than 30.
[Infographic courtesy of abullseyeview.com]