Oh yes, ladies, it is hot out there, and nothing cools you off better than a blast of fresh cold mist. Toners have seen their day – say hello to a bevy of new cooling and soothing facial mists and waters that are guaranteed to refresh your skin with no harsh drying chemicals. Store them in your refrigerator for a quick fix of cool and a great way to prep skin before makeup or refresh your delicate complexion when it's truly steamy outside.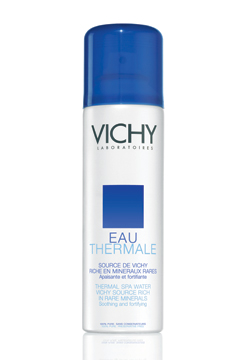 My new favorite summer skin spritzer is Nude Skincare Clarifying Water with Siberian ginseng and Irish moss. Apply it to a cotton pad after cleansing, but before moisturizing, and glide it over skin for a refined smooth feel. I have also poured it into a small spray bottle and carried it to the beach for a quick pick-me-up in between layers of sunscreen.
Skyn Iceland Arctic Face Mist gives you a special shot of multivitamins to calm and stabilize irritated skin on hot days. It's packed with vitamins A, B, C and E, and has white willow bark, which is known to prevent breakouts, making it perfect for acne-prone skin.
If it's just a spritz of cooling soothing water you have the classics with Evian Mineral Water Facial Spray or Vichy Thermal Spa Water. Both feel wonderful on a searing day when sprayed on the face and chest and act like a makeup reactivator when you're feeling gross. If you're at the beach or park keep them in your cooler so they stay nice and chilled.
What's your favorite way to stay cool in the summer heat?
As an established makeup artist, many beauty brands send me samples of their latest products for consideration. I only write about the items that I truly love and I always abide by Daily Makeover's Editorial Ethics Pledge in each of my Positively Beautiful posts.