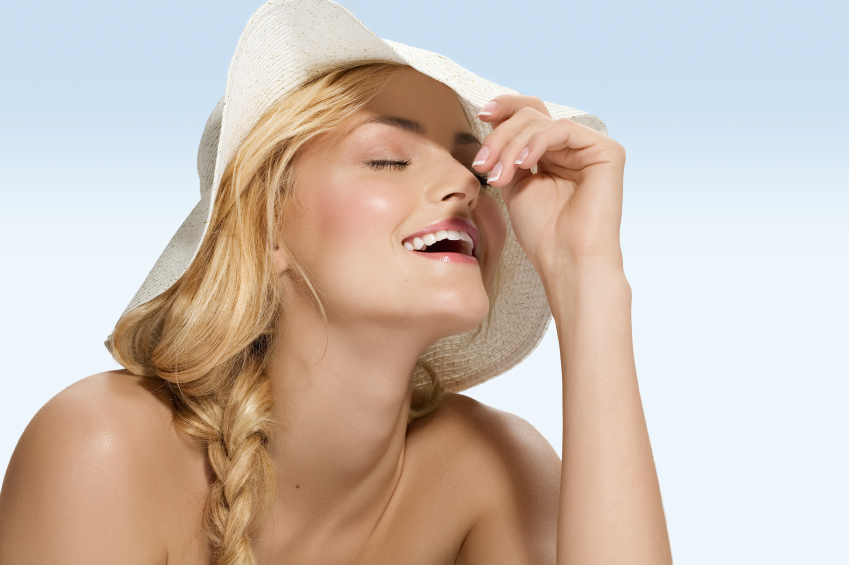 The time has come. You know what time it is: your makeup bag is staring at you from the corner of the room, filled with your awesome products from fall and winter (or, you know, maybe a few seasons prior). It's begging you for a makeover because, let's face it, some of those products are so last season for a reason.
We went to the biggest names in the beauty industry to give you the ultimate guide to giving your makeup bag a makeover for summer. Ladies, pull up a chair, dump out the contents of your makeup bag, and read along as beauty industry experts from NARS, MAC Cosmetics, Lorac, Nordstrom and more school us on everything summer makeup.
What are some beauty products that don't make the transition to warmer weather? What should you remove from your summer makeup bag?
"People associate powder with shine reduction, but powder can get muddy on summer-dewy skin and will clog your pores if it's layered on throughout the day. Stick to blotting papers for touch ups, and prep with oil-free moisturizers to cut down on shine." – Romy Soleimani, Beauty Director for Beauty.com
"Switch from dark lips to bright, vibrant colors, like NARS Semi-Matte Lipstick in Schiap and Satin Lipstick in Niagara." – Magda Ogbe, NARS National Makeup Stylist
"You'll want to ditch any sort of winter-y shades that have a base color of plum or grey; they'll look too cold for the warmth of summer skin. Just retire them until fall and winter, when your skin won't have that sun-kissed glow and they'll look more flattering." – Christopher Del Castillo, Senior Artist, MAC Cosmetics
"Lighten up and brighten up your look! This season is all about replacing deep, dark shades and infusing your look with color. I love corals, pinks and bronzes for summer, so look for colors that emulate the sun and give the face a fresh, natural glow." – Sonia Kashuk, Makeup Artist and Founder of Sonia Kashuk Beauty
"The first thing that comes to mind would be a creamy, fuller coverage foundation.  These foundations are wonderfully hydrating, but tend to contain more fillers, like waxes, oils and silicones.  As temperatures and humidity levels rise, these ingredients can literally cause a 'makeup melt down.'  The same can be said for any cream-based color.  So unless they're waterproof or a stain, the cream-based cheek and eye colors just don't hold up in warmer weather."  – Mark Chi, LORAC Makeup Artist
What are some of the basic essentials that you should put into your makeup bag for summer? What should you add?
"For summer, you want products that multitask and won't make skin feel heavy. Throw on a lightweight tinted moisturizer with SPF and you can get hydration, coverage and sun protection all in one application. Jouer Luminizing Moisture Tint is a great option with SPF 20, and Colorescience Sunforgettable Mineral Powder in SPF 30 and SPF 50 is great for combatting shine. I'd also carry a balm or stain you can dab onto lips and cheeks for a little extra glow, like Tarte Cheek Stain in Flush, which has been a effortless, fresh summer favorite of mine for years. And definitely toss the mini La Roche Posay Thermal Waters into your purse for a quick refresher on super hot days." – Romy
"Play up the golden goddess look you've got going on after the beach by flushing the cheeks, adding some mascara and a bright, bold lip. My favorite lips this season are beautiful melon shades; they're the ultimate combination of the freshness of orange with the timeless beauty of red. I'd add Sonia Kashuk Beautifying Blush in Sunset or Flamingo, my Dramatically Defining Eye Lash Curler, and Satin Luxe Lip Color with SPF 16 in Red Orange. – Sonia
"Your basic essentials are products with at least SPF 20, as well as primer for your face (especially to keep your eye shadow in place in the heat). I recommend NARS Pore Refining Primer and Smudge Proof Eyeshadow Base, plus our Pure Radiant Tinted Moisturizer Broad Spectrum SPF 30 for the perfect lightweight summer complexion. Finish the bag with our new Satin Lip Pencil in Yu for a nice summery pop of color." – Magda
"Bronzer, for sure!  People are bronzing year-round to add color and glow all year long, so if you're not using it during the rest of the year, this is the time to add it. Try a sheer liquid bronzer, like MAC Lustre Drops; it's different from a traditional brozner, and a great way to add a glow. Also, people pay more attention to your skin in the summer, so make sure it looks healthy and alive. Adding a blush with a peach or copper undertone helps, as well as a good coral for lips and cheeks. Additional tip: throw in brighter shades of lipstick (matte shades are this season's stars).  Look for bright reds, magentas, hybrid magenta-purples, and corals (go really orange). Then throw in a gloss with some great shine for night." – Christopher
"Primer is key, perfectly paired with sheer/translucent blotting powder; set it and forget it! From the hot boiling sun to cold conditioned air, always be confident with your daily look, whatever the climate may be." – Candace
"Go for a lightweight moisturizer with SPF. Remember, your makeup will only look as good as the skin underneath, so protect it! Look for moisturizers with Hyaluronic Acid (sodium hyaluronate) to hydrate skin without heavy oils. It allows skin cells to hold up to 1,000x their weight in water, plumping and smoothing the skin. Also, go for a protective lip product. There are balms, glosses and lipsticks galore, but not all of them protect the lips against the harmful rays of the sun.  I'd recommend LORAC Breakthrough Performance Lipsticks;  incredibly hydrating, richly pigmented, long wearing, paraben-free, and with SPF 15. Everything you need to keep your pout looking fabulous!" – Mark
Are there any tools that can be used year-round? Which are some of your favorites?
"I always have Caudalie Beauty Elixir in my kit. It's great for prepping the skin and smells beautiful.  I'm also obsessed with the Prescriptives Softlining Pencil in Jet. It's a true, inky black with incredibly smooth texture. Finally, the Beauty Blender: this sponge is perfect for applying tinted moisturizer, foundation and cream blush evenly — at any time of year."  – Romy
"My five must-have makeup brushes are my Small Multipurpose Powder Brush (offers a sheer application that's perfect for a light dusting of shadow over the eye); Blusher Brush (it's domed and fluffy, and feels soft and luxurious on the skin –  lighter brushes are always better for the initial blush application because it's easier to add more color than take it away); Spoolie (best for brows,  it latches to the brow hair for better control); Pointed Foundation Brush (a great, dome-shaped brush for foundation because it helps alleviate streaks, evenly buffs foundation and concealer into the skin, and is perfect for targeting specific hard to reach areas); and my Smudge Brush (great for blending pencil or gel liner, and can create a softer smoky eye).
A tip to using my Pointed Foundation Brush and getting a flawless application: rather than wiping the brush back and forth, tap the brush on the skin then blend the foundation for more controlled application and adherence to the skin. Apply a sheer, thin layer of foundation, then build in areas where necessary. Always be sure to keep application as sheer as possible in the under eye area." – Sonia
"An eyelash curler!  It is one of the easiest ways to make your eyes pop and look bigger. Just give your lashes a good curl, generously coat them with LORAC PRO Mascara, and you'll have lashes that go on for miles and will make heads turn!" – Mark
"Chantecaille Pure Rosewater is an error-proof tool. It's a facial mist  you use to set makeup, soothe your skin in dehydrated conditions, or give your skin a quick boost anytime, anywhere. You won't find me at the pool without it!" – Candace
"One of my favorite eye brushes is the MAC #219 Pencil Brush; it's shaped like a pencil and is great for smudging and getting that smoky eye around the lash line really quickly. For bronzer, the MAC #129 Powder/Blush Brush is amazing; it works well with bronzer or with blush. It just helps buff it in. It has this nice, rounded top, and is just the right shape for most face shapes." – Christopher
"There are definitely products that should be used year round. Some of my favorites are our Pore Refining Primer, Bronzing Powder in Laguna and Powder Foundation. These three products can be used on any skin type and are easy for on the go application. If you have these three products, you can take your makeup look as far as you want.
" – Magda
Any new products that you think our readers just have to have in their makeup bags this summer?
"I'm really excited about The Miracle Skin Transformer. It's hydrating, mattifying, includes SPF 20 and has a great feel on the skin. It really takes what BB creams do to the next level." – Romy
"Summer is all about glow and warmth, so this season I came out with two great products to do just that to the face! My Chic Luminosity Highlighter Sticks will effortlessly add radiance to the skin while defining the face with perfectly-placed highlights. Try my Chic Luminosity Bronzer/Blush Duo for an all-in-one sun-kissed glow and healthy, natural looking radiance.  Colorful, juicy lips are quintessential for summer, so I'm excited about my Shine Luxe Sheer Lip Color for the perfect wet shine finish to keep your pout plump and pretty all day long." – Sonia
"Must-haves for this summer are the NARS Light Optimizing Primer, The Multiple in Puerto Vallarta and Satin Lip Pencil in Yu. The Multiple can be used for easy touch-up on eyes, cheeks and lips, and you can apply it directly with your fingers, which makes it perfect for your makeup bag. In my opinion, a few Multiples in your makeup bag equal summer."
 – Magda
"Supergoop blew me away with their new spray on sunscreen, Supergoop! Continuous Mist Broad Spectrum SPF 50. It's oxybenzone-free and contains less alcohol than other leading sunscreen sprays; it has a special vitamin C formula that leaves my skin healthy looking and more radiant than ever, plus I found it to have a quicker drying time than others. The bottle has a twist lock to prevent any leaking, perfect for your makeup bag!" – Candace
"The new MAC Temperature Rising Colour collection! I'm all about the lip and eye colors. The entire collection is amazing, and the bronze packaging is really glamorous for summer. We have some amazing lipsticks in the collection, and my favorite is called Feel My Pulse – a purple shade in a great texture. I also love lip glosses that have a spark of glitter in them for summer nights. They're perfect after your day at the pool with sun-kissed skin. You throw on a gloss with a spark of glitter over your lipstick and it's the ultimate look for a hot summer night." – Christopher
"LORAC has a new CC cream that I am obsessed with. What's so genius about this product is that it contains pigments that instantly correct redness and hyperpigmentation. It neutralizes, primes, moisturizes, brightens, soothes and even protects against environmental damage, leaving skin looking flawless with a weightless feel. It's also oil-, silicone-, paraben-, and fragrance-free.  I also love body bronzer.  It's a much healthier way to achieve tan, beautiful skin without exposing yourself to damaging UV rays. LORAC is famous for their lineup of TANtalizer body bronzers and luminizers, and my new obsession is the new TANtalizer Body Bronzing Spray: long-wearing, water- and transfer-resistant, and  it instantly provides natural color while botanicals and antioxidants help your skin look healthy and youthful." – Mark
Bonus round: Any tips for knowing when to throw a product out because it's decayed/too old/no longer good?
"Performance is a great way to tell when products are ready to be replaced. I can always tell when mascara is a little too clumpy or dry during application, or a shadow doesn't put down color evenly. Product does expire, so if you can't remember how long you've had something; consider replacing it. Who doesn't want an excuse to try something new?" – Romy
"Due to their liquid base, water-based products tend to have a shorter use-span, which after time can become a breeding ground for bacteria. Check the ingredient list if you are unsure if the product contains water, but most water-based products can be used for one year with the exception of eye products, which should only be used for six months, as eyes are more prone to infections. Also, improperly-stored products tend to expire or become contaminated sooner. The most common causes of contamination are exposure to sunlight and/or extreme hot or cold temperatures, leaving them open and, most contaminating of all, sharing them with others. If you notice an odor, or the product's consistency has changed, throw it out.
Makeup tools should be washed weekly, with the exception of brushes or tools that touch the eyes, which should be washed more frequently. If you're acne prone, you should be washing your sponges, concealer brushes and foundation brushes daily.  Otherwise, you're feeding the problem rather than helping to clear your skin.
A great way to remember to clean out your makeup case is to buy a new case every six months. It forces you to go through everything and throw old items away." – Sonia
"On the back where you see ingredients on the actual product packaging box there's a number and an "M". The number is how many months the product is good. By law, it's on the tube if it's not on the box. Most powder products are fine, but always check the dates on mascara, skin care products, and liquid eyeliners." – Christopher
"Always read the time of use from the day you open any products. Also, some products change their smell and/or color after certain time, so that's a great indicator it's time to throw them out." – Magda
"A little-known fact is that most cosmetics come with a symbol called a "PAO" which means Period After Opening. This tells you how many months a product is good for once it has been opened and exposed to air. After consulting a dermatologist, generally creams and liquids (concealers, foundations, cream liners, cream cheek and eye color, lip gloss) are  good for 12-18 months, depending on the formulation (a year for water-based, a little longer for oil-based), pencils (lip and eye liners) can go about three years (with regular sharpening),  lipsticks can last about 1-2 years, and mascara should be thrown out after 3-4 months, even if you have only used it once." – Mark
"I have a habit of tossing anything that doesn't smell right or has the same texture that it's supposed to have. When my creamy lipstick no longer glides on my lips, it's time to dump it. Mascara can be a bit tricky, it's best to replace it every 2-3 months. I put little stickers with the date of when I first opened it around my mascara tubes (I use a lot of different brands) to remind me. Any emollient-based product will usually start to separate after 8 months, so if you can't see through your foundation bottle without shaking it, lightly pour a small amount into a plastic container to see if it separates. If it does, into the trash it goes." – Candace
Image via iStock
More Beauty Tips From Beauty High:
101 Beauty Tips Every Girl Should Know
25 Simple Money-Saving Beauty Tips
101 Summer Beauty Tips You Should Add to Your Bag of Tricks