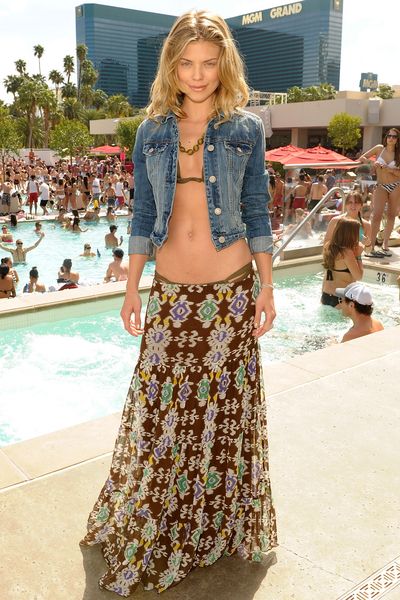 Photo: © Denise Truscello/WireImage
Beach season is right around the corner, which means it's time to start showing a whole lot of skin. If you're a little nervous about what your body looks like in your <a href="bathing suit, then now is the time to start tackling some of those concerns. From excess pounds and cellulite to pale skin and razor bumps, check out these quick skin fixes that will have your body ready to be flaunted in no time.
Lose weight and feel healthier with these simple tricks!
Decrease Dimples
Cellulite can't be "cured"; to diminish the appearance of pesky dimples, a great quick fix involves the triple threat of dry skin brushing, moisturizing and massaging. A body brush made of natural bristles worked gently over affected areas can help remove old dead and dying cells from the skin's surface. In addition to exfoliating, the brushing will increase the blood flow and stimulate the lymphatic system's ability to remove built-up toxins. After a brushing session, take a bath or shower, then apply a nutrient rich body cream with cayenne pepper and cats claw to encourage circulation.
Lose Weight Instantly (Or At Least Appear To)
A bronze tint can give the appearance of tighter, smoother skin, making you appear slimmer. The healthiest way to achieve a tan is through bronzers and sunless tanners. Legs can look longer and leaner by applying extra bronzer to the sides of the thighs for a darkening effect and shimmer on the shins to draw the eye down.
Keep A Clear Complexion
In addition to ridding your face of any breakouts, you can clear the back and chest by controlling your skin's surface oil, which ultimately clogs pores and holds in bacteria. Use products that not only combat breakouts with ingredients such as sulfur and salicylic acid, but also moisturize the skin and help restore a more youthful appearance.
Deflate Your Bloat
A bloated tummy is uncomfortable and bothersome when you want to look your best. To help get your stomach back to its natural condition, stay away from salt. Too much sodium causes you to retain water and feel bloated. Snack on hydrating foods like fruits and vegetables to take in additional water content and fiber. Fiber helps digestion, relieving the bloated, full feeling.
Banish Bikini Bumps
Bothersome ingrown hairs can easily be eradicated by gently exfoliating the area before shaving or waxing treatments. Post-shave/wax, use a treatment on the area that contains glycolic acid or alpha-hydroxy acid to soothe, disinfect and banish pesky bumps. Be sure to wait 24 hours after hair removal to avoid any further irritation. For a natural remedy, try applying tea tree oil to a towel and apply the cloth to the area for 5-10 minutes following a treatment.
Turn On The Confidence
Don't be so hard on yourself! Confidence is key when you want to look, feel and act like a million bucks. People who are confident stand up taller and straighter and smile. Believe that you're beautiful and your body will feel beautiful, with or without clothes.


Howard Murad, M.D., is a celebrity dermatologist and founder of Murad Skincare Inc. He is one of the world's leading skin and health-care authorities, and his research into the Science of Cellular Water has revealed the ability of cell membranes to hold water as the fundamental marker of youthful good health, offering the world's most comprehensive insights into health and aging. As a guest editor for Daily Makeover, Dr. Murad will give you all of the info you need to keep your skin, and yourself, healthy from the inside out.