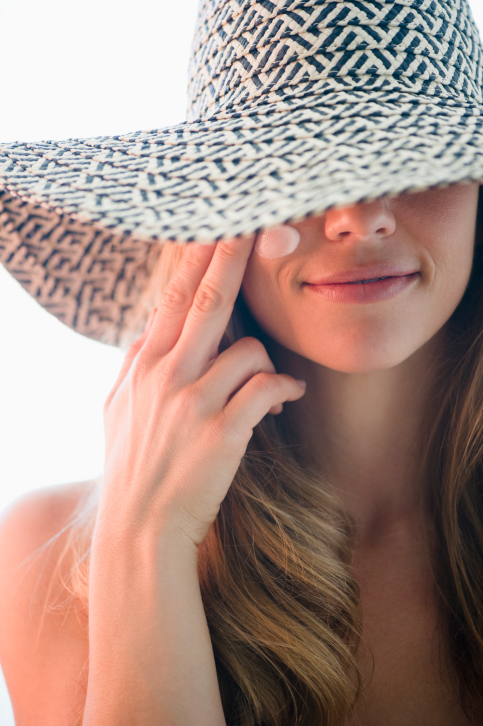 It's easy to become a create of habit when it comes to our beauty routine. However, now that the summer months are upon us there are a few habits to switch up and remember. Don't worry, we're here to help you avoid making some of the common summer beauty mistakes.
1. Getting a sunburned scalp. It's easy to forget that your scalp — the closest part of your body to the sun — can suffer sun damage as well. Wearing a hat or chic headscarf during long periods in the sun is an easy fix.
2. Swimming after a shave or wax. Skin becomes very sensitive after hair removal because shaving and waxing remove the top layer of skin cells along with hair. Shave at night or wait a few hours before going out in the sun to avoid a nasty rash.
3. Splotchy sunscreen spots. Miss a spot with your sunscreen and you can be left not only with weird tan lines but with a painful burn. To make sure you're covered, apply one ounce of sunscreen (a golf ball-sized dollop) the recommended amount for your body. When using spray sunscreen, make sure to blend the product to your skin. This will help avoid inconsistent sun coverage.
4. Skipping SPF on your lips. There's not much worse than peeling, sunburned lips. Choose a lip balm with an SPF of at least 15 to wear through the summer. We love Fresh Sugar Lip Treatment SPF 15 ($22.50, fresh.com).
5. A glow that stops at the neck. For most people, the neck is the palest part of the body — and the easiest to forget when applying makeup. When applying bronzer, be sure to blend into your neck to avoid a two-toned look.
6. Using expired sunscreen. Sunscreen's shelf life is three years. After that time, ingredients start to separate and become less effective. Not sure if the tube in the back of your drawer makes the cut? Look for the new Drug Facts label, which has been required since late 2011 and means your SPF is less than two years old.
7. Forgetting to switch to waterproof. Raccoon eyes don't have to be part of your summer makeup look. It's easy to prevent by switching over to a waterproof mascara, like Diorshow Waterproof Mascara ($25, sephora.com).
8. Sticking with your winter skin care. The heavy moisturizer that got you through the dry winter months is most likely too rich for summer's humid weather. Switch to a light lotion, such as Neutrogena's Oil-Free Moisture With Sunscreen SPF 15 ($9.99, neutrogena.com), to avoid overly oily skin.
9. Exposing your hair to the elements. Hair is especially susceptible to damage during the summer months. Sun, chlorine and salt water can dry out hair and fade your color. Protect your mane with a moisturizing product that has UV filters, such as Phyto Plage Protection Sun Veil ($22, beauty.com).