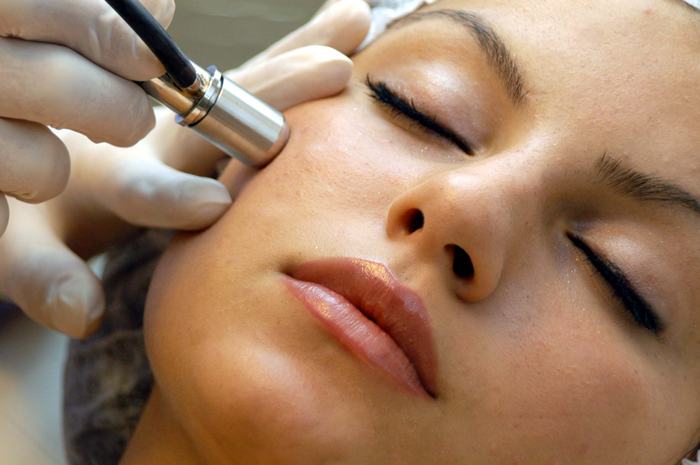 Most people here the word "abrasion" and flinch. "Does it hurt?" they ask me, (knowing I've had this salon procedure done more than once). Usually I say no, but I have noticed if you go around or during your period your skin can be a little sensitive. Of course, this hasn't stopped me from enjoying this awesome skin-rejuvenating procedure over the years. In fact, just this week I headed down to the Red & White Spa in SoHo for a little beauty R&R before the unofficial kick-off to summer.
What You Need to Know Before You Go: Microdermabrasion is a spa procedure in which the outermost layer of dead skin cells is gently exfoliated off your face and neck using a suction-like tool that funnels a spray of micro-crystals across the skin. Generally, you start the procedure by stripping down to just your undies and lying on a table with a towel stretched up over your chest. This is totally normal since some spas like to include additional treatments on your neck and chest and don't want to ruin your clothes (but you can always ask for a robe if you're shy!).
Who Should Have It Done: There's no age limit, but it's generally recommended for ages 14 and up. This spa treatment is actually ideal if you're in your 20's and have mild sun damage or acne scarring or you're in your 30's and 40's and want to soften any wrinkles or lines on the face.
What The Entire Process Is Like: It differs from spa to spa, but typically a trained technician will first cleanse your face and clean out your pores and then start applying different creams to prep your skin. Happily this also usually involves some sort of facial, shoulder and scalp massage too. Once this is completed, he or she will then cover your eyes and begin vacuuming your face. (The suction might be a little uncomfortable for some people, but the technician can always adjust the strength to fit your needs.) After your microdermabrasion is complete, your technician will apply a cooling agent, then a pore tightener and a moisturizer. This is usually the point where I fall asleep because I'm so relaxed and ready for a nap (and usually embarrass myself by snoring).
How Long Does It Take: Usually an hour or a bit longer if you plan on having the technician reapply your makeup for you. (Generally it's best if you don't wear any or wash your face for at least a day following since your skin will be sensitive.)
How Much Does It Cost: Prices vary from spa to spa, but you can always snag a great deal on Lifebooker.com. As a matter of fact, Beauty High readers in the NYC and these other areas can enjoy these perks NOW:
$39 Microdermabrasion at Red & White Spa in NYC
$25 Microdermabrasion at Sunrise MedSpa in LA
$29 Microdermabrasion at Brazilian Beauty in SF
(Photo: Lifebooker)