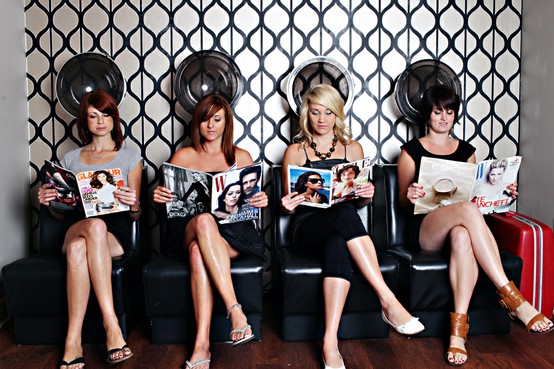 We've all been there—every six to eight weeks, to be exact—sitting in the chair at the hair salon hoping to leave the place looking like Blake Lively instead of the younger version of our mothers. Even though we so infrequently end up with cut we want, somehow leaving the salon unhappy with one's hair never gets easier.
Who knows? Maybe the stylist you're using new to the job, but we all too often fall into a "bad hair" rut solely because we weren't communicating properly with the person holding the scissors. Well, no more! The good news, ladies, is that you can leave the salon with shampoo commercial-worthy hair every time you go in for a cut if you just work on your communication skills.
Though it can be a little bit awkward or intimidating to be so forward with someone, this is your hair and you should have the hair that you want. Here are some of the guidelines on how to ask your stylist for the right cut:
Bring Two Pictures With You. One picture should be an example of what you do want, and one should be an example of what you don't want. It's important to visually show your stylist what you're talking about so that there's little left to the imagination.
Be Realistic About Maintenance. If you're someone who only wants to spend 10 minutes on your hair every day, your stylist needs to know that you can't have a hairstyle that requires 30 minutes of maintenance. Also, if you can't make it to the salon more often than every 6 to 8 weeks, think twice about a style that requires clean up cuts every four weeks.
Talk About Texture. Curly hair cuts differently than straight hair or wavy hair. You know your own hair's texture better than anyone, so explain how your hair dries, if one side is textured differently than the other side, etc., before the scissors come out.
Have the Color Conversation. We all know that Carrie Underwood looks great blonde and Emma Stone makes for a beautiful redhead, but this does not mean that the rest of us will look fantastic with these hair colors. Talk to your stylist about your skin tone and which shade of a hair color will look best on you before the dye is mixed. Most stylists have a hair color book and will show you examples if you ask.
Show, Don't Tell. You may just be heading to the salon for a regular maintenance cut, but that doesn't mean you don't need to pay attention to what you're asking for. Make sure that if you're asking for a trim, you show your stylist with your fingers or a ruler exactly how much you want off and exactly how much you don't want off. We've all had the experience of asking for a trim and ending up with a bob instead.
Image via Pinterest