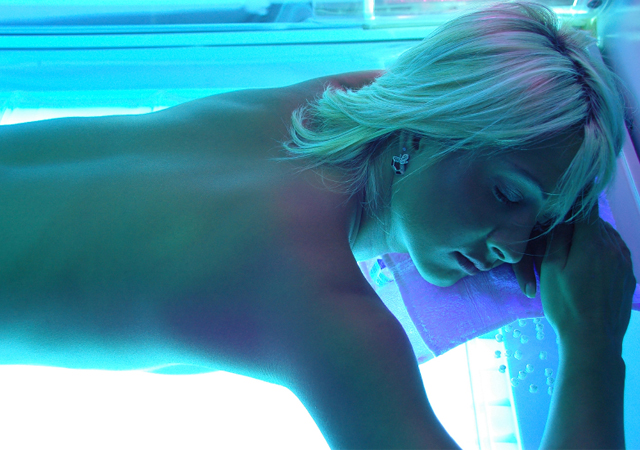 With the warmer temps and the brighter sun, SPF (and needing a tan, let's be honest) has come to the tops of our  minds. But, in yet another shocking skin cancer study, WebMD recently published an article regarding the facts that in a 2010 U.S. skin cancer study, researchers found that out of 171 melanoma patients, 25 percent of survivors never applied sunscreen and a shocking 2 percent used tanning beds. These patients were pooled out of a government health survey that accounted for 27,120 adults.
The lead researcher in the study, Dr. Anees Chagpar, from Yale University's School of Medicine, commented, "They did do a better job of protecting themselves than the average person, but there is room for improvement. Maybe we need to be more vigilant about education."
Although melanoma accounts for less than 5 percent of skin cancers in the United States, most of the recorded deaths from skin cancer are from melanoma because it often spreads to other parts of the body if it isn't caught in time. Doctors advise skin cancer survivors against exposing their skin to the sun, and to take precautionary measures such as using sunscreen, wearing sun hats and long-sleeved shirts, and avoiding tanning beds altogether. While some of those with melanoma take this advice (one-third always wear sunscreen compared to 17 percent of other Americans), a staggering 27 percent of melanoma survivors never used sunscreen before being exposed to the sun for more than an hour.
In the study, Dr. Chagpar was shocked that 2 percent of melanoma survivors frequented tanning beds. She pinpointed tanning addiction as a possible reason for their visits to the salon—there's also a current study evaluating this hypothesis.
The American Cancer Society has reported that there will be approximately 76,700 new cases of melanoma in the United States this year, and that an estimated 9,500 cases will be fatal. Melanoma survivors have an increased risk of developing another melanoma, so using precaution and protection against harmful UV rays is imperative.
Using sunscreen on a daily basis is important for your skin's health, and slows down signs of aging on your face and body. However, the percentage of those who actually regularly use sunscreen is surprisingly low.
Do you apply sunscreen if you're out in the sun for a while?
[Web MD] Image via Istock