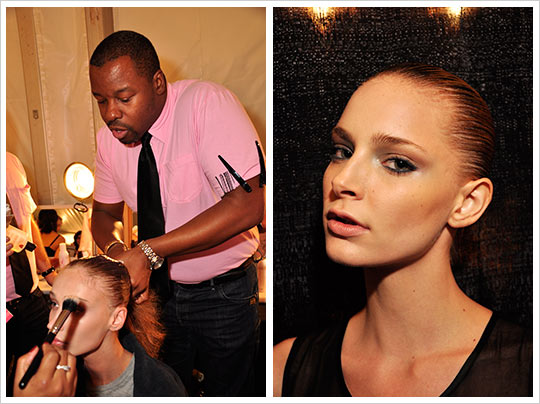 Slicking back a model's hair and the final look.
Photos: Nathan Bush
Usually when you think of buns you think of soft, graceful and elegant. The hairstyle I created backstage for the Tony Cohen Spring 2010 fashion show was the total opposite: strong, sophisticated and edgy.
There's been a definite shift in the fashion world over the past few seasons; I feel like women right now desire clothes that are stronger and that make more of a statement. The same holds true for their hair. That explains why there were so many textured and slicked back looks this season.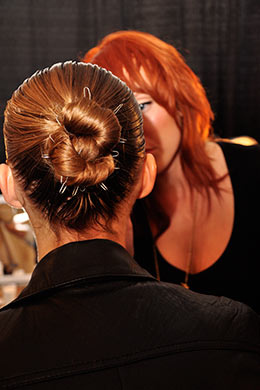 The view from the back.
Photos: Nathan Bush
For Tony Cohen, I wanted to make a bun that was slightly more architectural in design, something that was more special and spectacular. I took lots of Fix It Gel (and I mean A LOT) and applied it to the hair, brushing it back to create a slick, shiny, almost wet effect. I pulled hair into a ponytail, then twisted it in on itself creating a coil that was then pinned and place.
To add the "wow" factor, I grabbed some hair pins and began to insert them haphazardly around the bun, pushing them only partway in so they were very visible, adding that structural effect to the look. I then sprayed the whole thing with Beautiful Hold Hairspray to keep it all in place.
It's definitely a statement look and sexy all the way. What do you think?
Remember, Beauty Is Individual.
As a celebrity hairstylist, I often receive samples of new products directly from beauty brands to test out. Any product I mention in this blog is one that I've tested out myself, in accordance with Daily Makeover's Editorial Ethics Pledge.