I have been asked several times by guests at the salon if there is a way to put some vibrant colors in their hair just for fun. Of course, it is more than possible but it has never really been easy. I have colored wefts of hair and sewn on clips for vibrant clip-on extensions, I've bleached the hair white and done a product like Fudge or Manic Panic over the top and I've tried various formulas of permanent hair color placed in foil packets. All of these attempts gave me great-looking results but like I said, none of them were easy and all but the clip-ons were permanent.

I recently received a set of complimentary temporary hair colors to try. Because of my years of experience and celebrity clientele, every once in a while I get sent products from beauty brands or their press representatives to try out. This product Streekers is AMAZING!!! It is perfect for just those occasions when you want a little kick to your hair color and you want it NOW!!!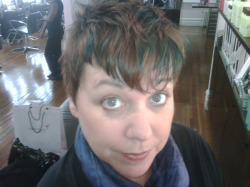 When I was at the salon today, Jayne (pictured at left) came in for a haircut with Ted Gibson and she asked me about adding a few vibrant blue streaks in her hair. I told her I could do it and then went through all of the options I told you about and then it dawned on me!!! I had this collection of Streekers in my office. I ran back and grabbed the blue one and painted some pieces in… FAB!!! After I applied it, we let it dry and then brushed it out–it wasn't sticky, it wasn't flaky–it felt just like the rest of her hair. If I would have been thinking, I would have made a video with my Flip camera–but I wasn't so I took a picture with my BlackBerry. The photo quality isn't that great but you get the idea….
She LOVED it and got exactly the result she was looking for. The best part is, when she is tired of the blue streaks she can shampoo and they are gone!!!
I love this stuff–What do you think? LMK.
Any product I mention in HUEman Behavior is one that I've tested out myself and is in accordance with Daily Makeover's Editorial Ethics Pledge.