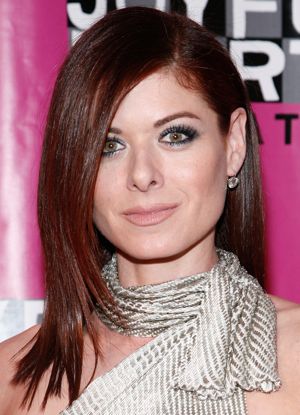 Photo: © Amy Sussman/Getty Images
I love it when my Gibson Girls mix things up with their hair. A few weeks ago I got to to do just that with my girl Debra Messing, who was attending Mariska Hargitay's Joyful Heart Foundation Gala.
There was actually a strict dress code at this event: Everyone had to wear black jeans or leggings, so Debra paired her black leggings with this futuristic, silvery one-shoulder top and some amazing Pucci heels. Debra is a curly girl at heart, but I took one look at her outfit and knew we weren't going to be able to do what I call the Classic Debra Messing Curl & Wave. Since her outfit was so strong and modern, I knew we had to go for a strong and modern hairstyle. We talked it over and decided to do sleek, straight hair with a dramatic side-part.
I started off with wet hair using L'Oréal Professionnel Texture Expert Expansion Body Activating Mousse and Build It Blow Drying Agent and created that deep side part. I then blew her hair dry with an amazing Denman brush to help create that straightness and close down the cuticle for ultimate shine. Next I took a Ted Gibson flat iron, heated up to 350 degrees, to smooth out her hair. It's important to have it at that high of a heat because Debra's hair texture is so curly and can be on the coarser side, so it needs a bit more heat to make it stay smooth and sleek.
I finished up by spraying her hair with Beautiful Hold Hair Spray and tucked one side of her hair behind her ear. You'll notice I do that alot, with Debra in particular. That's because she has such an amazing taste in jewelry and I want to be sure that her hairstyle doesn't cover it up and instead helps to show it off.
Remember, Beauty Is Individual!