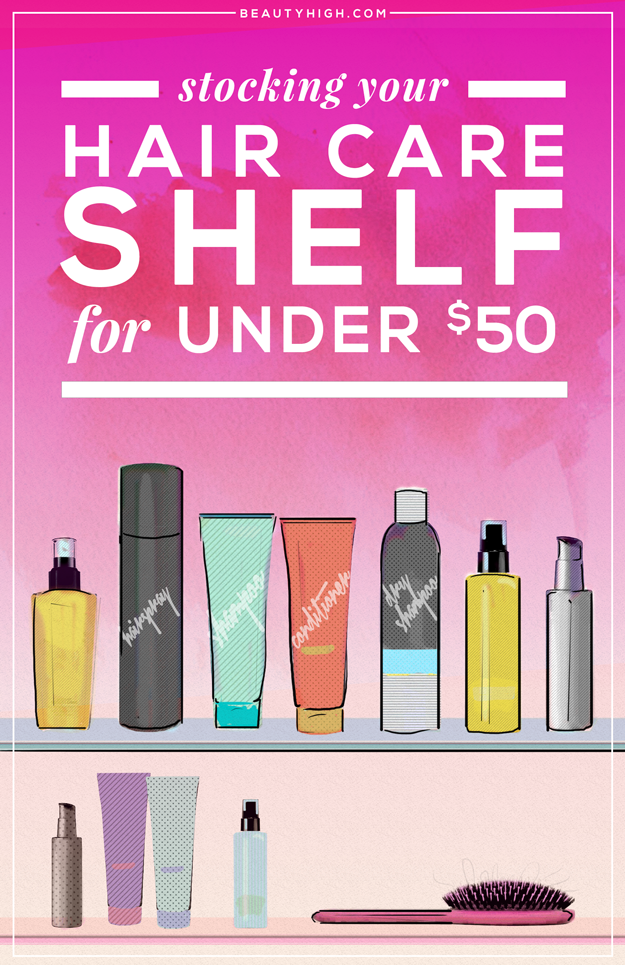 Showing your hair love doesn't have to mean brushing it 100 strokes a day (in fact, that's not likely doing anything to your advantage) or spending obscene amounts of money on keratin treatments, blowouts, and hair vitamins. Sometimes the best thing you can do for your locks to keep them healthy and looking great no matter the 'do is a TLC program of minimal—or just plain smart—heat styling and stocking up on incredible product. And you can do this—literally starting from scratch—without cost being a major concern by filling your shelves with hair care buys you can find at the drugstore.
In fact, we put together a shopping list for you that includes everything from shampoo to conditioner to hair oils and totals up to less than $50. Considering some shampoos alone cost over $20, securing everything you need in terms of product to create countless hairstyles is a steal. And for further justification, these bottles, tubes, and tubs aren't usually those you empty out of in a week's time, allowing you to get extended use (and better looking hair) for a long period of time. Check out the shopping list of awesome drugstore beauty buys, their descriptions, and the grand total below.
MORE: What to Consider Before You Get Bangs
Shampoo
L'Oreal Paris EverPure Moisture Shampoo, $6.99, ulta.com
This product comes at a crazy cheap price, but isn't weak when it comes to strengthening your hair. It's free of sulfates for those that are sensitive to the ingredient and is formulated to work to protect and seal the hair cuticle, making it less likely to split or break.
Conditioner
L'Oreal Paris EverStrong Thickening Conditioner, $6.99, walgreens.com
Reach for a conditioner that does more than just hydrate your moisture-loving strands. This product, which holds a rosemary mint fragrance, from L'Oreal Paris is also free of sulfates but works to make thin hair appear thicker and healthier.
Hair Oil
Garnier Fructis Marvelous Oil Deep Nourish 5-Action Hair Elixir, $4.97, walmart.com
This type of product is one of the most talked about of the year. Lighter and easier to apply than a mask, hair oils can be used as a wet treatment that can be rinsed out, absorbed into damp hair as it's drying, or lightly applied on dry hair to smooth fly-aways and frizz. This find from Garnier repairs broken hair and adds in extra moisture—not to mention makes your tresses feel silky.

Hairspray
John Frieda Frizz Ease Keraflex Flexible Hold Hairspray, $9.99, walgreens.com
Hairspray gets a bad rep for being sticky, making hair feel crunchy, and not friendly to a quick switch of styles. This product is formulated so that it's flexible and brushable but also still holds your hairstyle in place while fighting away frizz.
Texture Spray
Suave Professionals Sea Mineral Infusion Texturizing Sea Salt Spray, $4.99, target.com
Since natural texture was a look that invaded a rather large majority of runway shows already this season (and we haven't even made it through Paris yet), you'd be keeping up with the trends by picking up a bottle of sea salt spray. It's also one of the quickest things you can do to add movement and waves to your hair without heat tools. Spritzing Suave's throughout your locks will cost you less than $5. Steal?
A Heat Protectant and Blow Dry Lotion
TREsemme Runway Collection Get Sleek Blow Dry Balm, $7.30, drugstore.com
Before you blow-dry, you're going to want to arm your strands with protection before applying heat. And you're not going to want to skip out on this if you plan on curling or straightening your hair later on. This blow-dry balm acts as a heat protector that also keeps your hair smooth and well, like the name suggests, sleek.
Dry Shampoo
Pantene Pro-V Blowout Extend Dry Shampoo, $4.99, walgreens.com
Want some volume? Your blowout need a refresher? Looking to push that hair washing day later on in the week? Dry shampoo is your answer. This product sprays out a light, powdery substance that absorbs excess oil on your head, gives your hair texture, and leaves it looking like you just hit the shower.
Grand Total: $46.22