On busy days, breakfast always seems to fall by the wayside. Who hasn't skimped on food in the morning because they were too busy taming their unruly hair? (My curling iron steals all the attention.) Since I'm always on the lookout for healthy meals I can take on the go, I spoke with dietitian Willow Jarosh from C&J Nutrition and Lole brand ambassador who shared her tricks for staying full until lunchtime — which makes it a whole lot easier to avoid those free doughnuts at the office.
How To Fill Up On A Smoothie
I jumped onto the juice/smoothie craze a year ago, but didn't get energy boost and weight loss results I thought I would. Instead I find myself starving at my desk by noon every day, so clearly something isn't working. Jarosh told me the one thing my recipe was missing — carbs.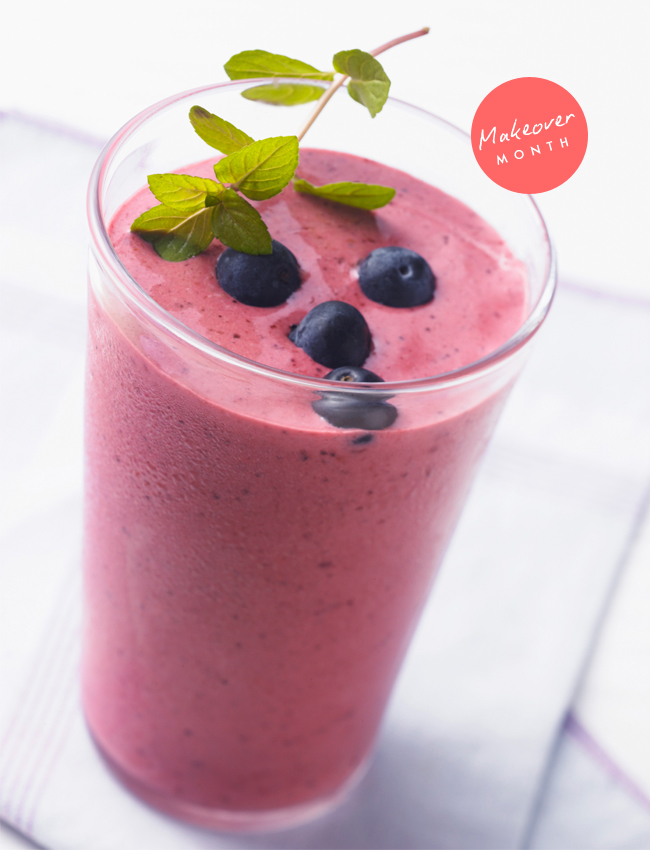 In recent years, dieters have become scared of carbs. But Jarosh cited studies that have found women who eat whole grains on a regular basis eat less in general and actually weigh less. She advised that each meal needs a mix of high-fiber carbs, healthy fats and protein. To get a heartier carb, she suggested I add grains or chia seeds to my morning smoothie. Chia seed (yes, like the Chia pet) is rich in omega-3 fatty acids, antioxidants, protein and fiber, and because it doesn't have any flavor you can add it to just about anything. One word of caution: chia seeds hold water, and when mixed in a beverage, they get a gelatin-like texture so you have to consume your beverage a little faster than you normally would.
Recipe: The Stay-Full Smoothie
1 cup regular almond milk
1 whole banana
1/2 cup strawberries
1 tablespoon protein powder
1 tablespoon chia seeds
Breakfast: Before Or After Your Workout?
Jarosh says you shouldn't skimp on breakfast. The key isn't necessarily eating before you work out, but eating 20-30 minutes after.  If you're starving when you first wake up (which is a good thing!), split your breakfast in half — a little before you lace up your sneakers and the rest when your workout is done. Even if you're not much of an eater after working out, something as small as half a banana or Greek yogurt will jumpstart your metabolism for the day.
What are your breakfast favorites?