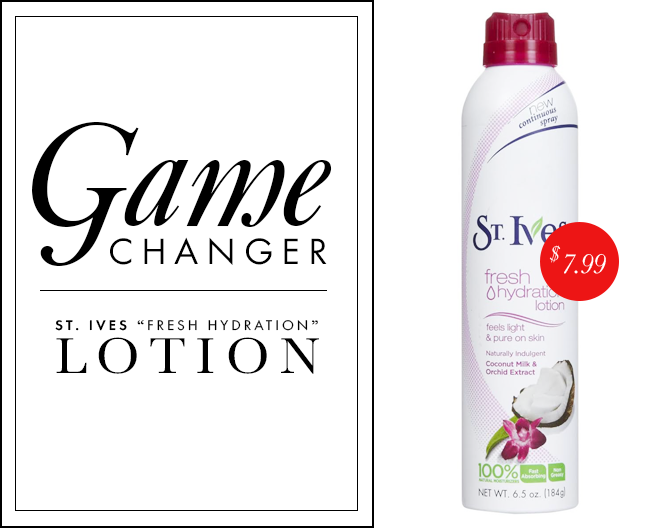 In our series, Game Changer, we're highlighting products that are so good, they are having a significant effect on our beauty routines. 
I pay so much attention to properly cleansing, treating, and moisturizing my face, but until recently, I hardly gave anything below the neck a second thought beyond body wash and the occasional necessary exfoliation of a dry elbow. I couldn't even fathom what body lotion was for—was there anyone who actually had the time, let alone the arm span, to moisturize their entire body?
I was so skeptical of the existence of moisturizers for your body (what a weird idea!), that even when first presented with St. Ives Fresh Hydration Lotion ($7.99, soap.com), I still wasn't quite buying it. I knew that it came in an aerosol can that could be sprayed backwards, sideways, upside down, this way, that way, all the ways, but I just wasn't entirely convinced that I needed it.
And then, you know, I actually tried it. The spray goes on in a super-fine mist rather than being ejected with the force of a jet stream. It's ridiculously easy to get to hard-to-reach areas, and the lotion itself is cooling and soothing, thanks to glycerin and shea butter. I even used the Oatmeal & Shea Butter on just-shaved legs and didn't find my sensitive skin to be irritated at all. The lightweight formula absorbs quickly and completely with no trace of slickness—I put on a silk shirt right after and escaped unscathed—and my skin is sooooooo soft.
The best part is that the spray means applying lotion requires the bare minimum of effort. No more straining to reach your back, or folding your body in half to reach your ankles. St. Ives makes moisturizing as easy as a push of a button. (You still have to hold the button down, though.)
Read more: How to Get Sexy Summer Legs