Over said, but totally true: Nothing makes you feel more transformed so quickly than getting a gorgeous new hair color. To get the scoop on which hues are super hot this season, we asked NYC celebrity hair colorist Beth Minardi to give us the lowdown on the latest Hollywood hair color trends. Plus, we're giving away an amazing hair color makeover with Beth Minardi in her NYC salon. Enter now!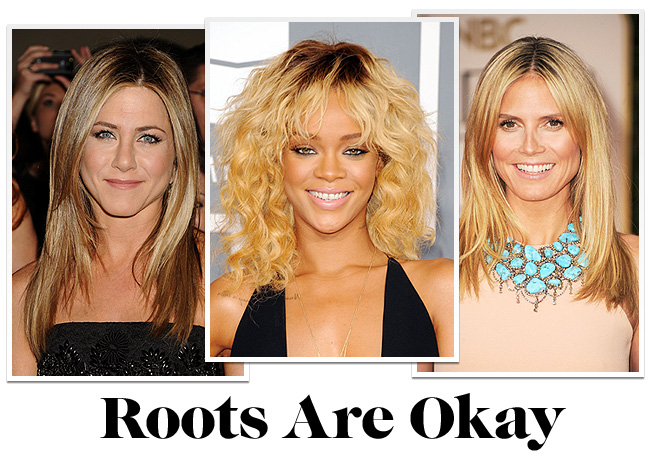 The trend of visible grown-out-roots-on-purpose continues to be popular in all shades, from blondes to brunettes, but the effect looks best on fair, flaxen hair hues, as seen most recently on Jennifer Aniston, Rihanna and Heidi Klum. "Blondes with butterscotch and honey tones really pull off this look well," says Minardi. How do you know if you're getting the rooty look right? "It's a question of contrast. How far away is the color of your roots from your base shade? It can't be too drastic. Black roots with brown or reddish brown ends are ok, but you can't go from black to blonde. For blondes, the roots should be a warm deep brown," says Minardi. And watch out when styling this look. "Roots don't look good when your hair is pulled back. Keep your hair down, and a side part usually works best," cautions Minardi.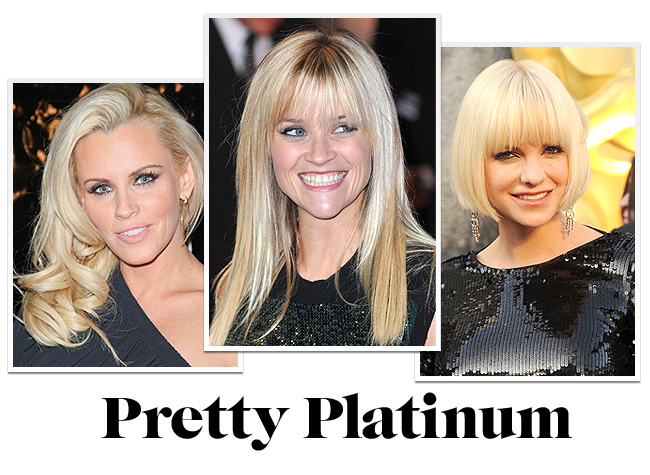 Bright, almost-white blond is making a big comeback this season. From Reese Witherspoon and Jenny McCarthy's long bombshell locks to Anna Faris' chic, sleek bob, platinum blondes definitely turn heads. "This is a high lift, single or double process blonde that is bold, beautiful, but also high maintenance. You'll have to get touch ups every four weeks to keep the color consistent from roots to tips," says Minardi. And since getting this hair color requires a lot of bleach, nurture your hair back to a healthy, shiny and soft condition with her new Minardi Luxury Color Care System 3 Nourishing Wash and After Wash which contains ultra moisturizing botanical blend of rich lipids, vegetable and wheat proteins, and vitamin B5.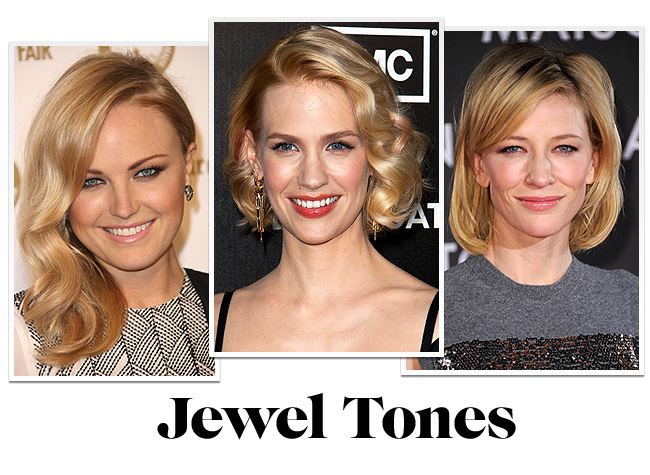 For blondes who love a natural look, infuse your color with hints of rich, shimmery jewel tones such as gold, topaz, champagne and amber. "Cate Blanchett is the perfect example of modern highlighting. You can see multi-directional highlights in gorgeous jewel-toned shades at all different angles. The effect is stunning," says Minardi. Malin Akerman and January Jones are also great examples of the new luxe blonde.
Enter To Win A NYC Hair Color Makeover With Beth Minardi!
This post is sponsored by Minardi Luxury Hair Color Care. The celebrities appearing in this post do not recommend or endorse Minardi Luxury Hair Color Care or processes described. Please read our Editorial Ethics Pledge if you'd like to know how we select products to feature.