Fashion shows are a hotspot for finding exciting beauty trends and backstage at Spring 2010 Fashion Week we saw tons of funky makeup looks we loved. Over and over again we were told that most of these looks were wearable in real life, so we decided to put that statement to the test. We invited MAC and their makeup artistry team to give Associate Editor Megan McIntyre a runway-inspired makeover to test-run and see if it really worked off the runway. First up: Matte, neon orange lips, as seen at Twinkle by Wenlan.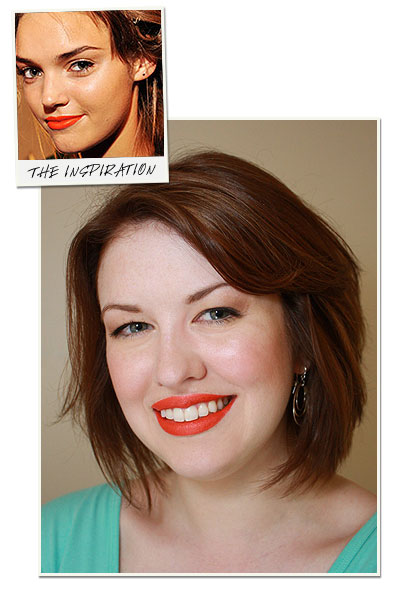 Runway Photo: © Luca Cannionieri
Orange is not a color I would say I'm comfortable with. Coral and I have an okay relationship, but the highway-safety-vest orange that dominated the Spring 2010 runways is not something I see as easy to wear. Therefore, I was a little shocked when MAC Senior Artist Gina Bettelli told me that it's actually a very diverse color that works on any skin tone. It also helps make blue eyes like mine stand out because orange is a polar opposite of blue, so it draws out the color, making eyes appear brighter.
Gina wanted my lipcolor to last, so she started off by dusting my pout with Studio Fix Powder Plus Foundation. Then, using a lip brush, she applied Lipmix in Orange all over my pout. The color was intense and the matte finish left my lips feeling a bit dry, but manageable.
The minute I left the makeup chair, the comments started flowing. One coworker nicknamed me Hot Lips while another commented that she couldn't concentrate on what I was saying because she was too busy staring at my lips. Once I ventured outside, I expected to get "crazy lady" stares, but was surprised when no one batted an eye. I got a few double takes from tourists and some construction workers on their break had some colorful comments for me, but no one was pointing and staring. I also kept hearing friends and coworkers say they had never noticed before what a pretty lip shape I had. One even said I had Angelina Jolie lips–sweet!
If you like the idea of orange lips but want something a little less bright, Gina recommends trying out a lipstain like Pro Longwear Lipstain Marker because it's a "non-threatening way to do a bright lip. It has precision and it's longwearing so you don't have to babysit it," she says.
"Babysitting" was definitely a requirement with this look; I had to touch my lips up at least 5 times throughout the day. Aside from that one pesky point, I really loved orange lips. Once I got used to the shock of seeing myself in such a bright color, I began to really dig the way it looked on me. I felt more confident and a whole lot of sexy as I made my way from event to event later that night. Verdict: Wearable, but be prepared to put in some major effort to maintain it.
Want to see how you'd look with neon orange lips? Try this look on now in the virtual Makeover Studio!
As one of the web's largest beauty sites, DailyMakeover.com constantly receives products from beauty companies for editorial review. Please read our Editorial Ethics Pledge if you'd like to know how we select products to feature.