Scroll To See More Images
When you think about romance— and more importantly, romantic hair— you probably imagine that there's some invisible fan set on low, always billowing your hair softly around your face. The unfortunate reality is that real wind is rarely in favor of your romantic, softly tousled hairstyle. You should probably just stay indoors after prepping with any of these "fan in a can" type of hair texturizers. They're somewhere between a dry shampoo and a volumizing mousse. The best part is that they're just as easy to use as a setting hairspray, even if their function is to do the near opposite— to give you perfectly imperfect hair. Just spray and go!
Without the drying effect of a salt spray, Amika's Undone Texture Spray gives you that "just went swimming in the ocean" hair with some Sea Buckthorn Berry thrown in for conditioning.
(Where to Buy: Amika Undone Texture Spray, $19.99 for 5.3oz at Sleekhair.com)
Bumble and bumble's Thickening line was introduced to give you the full spectrum of thick, voluminous, and tousled hair. If you're good on volume though, definitely pick up this one item from the line—their Dryspun Finish spray. It has an ideal separating effect that makes all your flyaways somehow come together to create the prettiest strands around your head.
(Where to Buy: Bumble and bumble Thickening Dryspun Finish Spray, $30 at bumbleandbumble.com)
MORE: How To Get Hair Volume: 10 Tips From Experts
A hybrid of a hairspray and a pomade, Garnier's Texture Tease spray is like if you were able to spray a flexible pomade on your hair—all the grip and none of the weight. You can use this to set your hair or to just muss it up.
(Where to Buy: Garnier Texture Tease Dry Touch Finish Spray, $4.29 at Garnierusa.com)
Think of this like a grip you can spray into your hair. With quinoa, keratin, silk, and aloe leaf juice infused into the formula, this texture holding spray is equal parts hair treatment as it is styling product.
(Where to Buy: Not Your Mother's Double Take Dry Finish Texture Spray, $7 at NYMBrands.com)
Possibly the Rolls Royce of hair texturizers, Oribe makes this heavenly-smelling dry shampoo/weightless texture spray. Great for imparting some grit to clean hair as well as absorbing excess oil, this magic spray is meant to give you the bed-head of your dreams for days.
(Where to Buy: Oribe Dry Texturizing Spray, $42 for 10oz at Space.NK)
Either this is a really mild hairspray or perhaps a sprayable freeze-frame for that picturesque moment when you get the window levels just right for a ride in a convertible that leaves you with the perfect California Girls kind of hair. Whichever way you choose to use it, this texturizing hairspray from Redken is essentially its name in a bottle.
(Where to Buy: Redken Wind Blown 05, $22 at Ulta.com)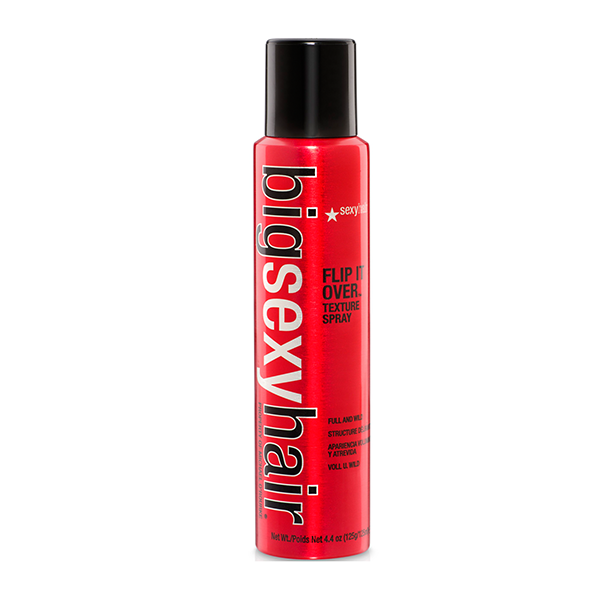 For toss-able, throw-em-over-your-shoulder kind of hair that's got height and body, you simply flip your head over, spray Big Sexy Hair's texture spray all over and flip back up. Voila—the best hair you've ever hair-flipped.
(Where to Buy: Big Sexy Hair Flip It Over Texture Spray, $13 at Thebeautyplace.com)