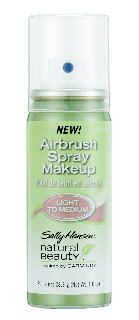 Women have always been on a quest to find new ways to mimic a flawless complexion with foundation. We are always looking for the new formula, the new texture or the best way to create amazing looking skin — something that covers up our imperfections without looking like we are wearing makeup.
Creams can be heavy, liquids can be messy and powders too cakey. That's why I'm a big fan of airbrush spray foundations; they are as light as air and look incredible on the skin. They were designed to be a more user-friendly version of the real, heavy machinery airbrush makeup used in movies.
These new versions come in an easy spray can and actually give better results than the professional ones! They are easy and fast to use — I have been using them on What Not To Wear for years and the results are always stellar!
For the face, you can spray the makeup onto a non-latex sponge and apply it directly to the skin. It will go on sheer and natural and becomes water-resistant when it dries. Try the Sally Hansen Natural Beauty Inspired By Carmindy Airbrush Spray Makeup. This is a great product for women who have normal to oily skin. If your chest area is a bit ruddy or discolored, you can spray it directly onto the skin and use a sponge to blend it in for a smooth look.
If you suffer from veins, bruises or spots on the legs, eliminate them by applying one of these great airbrush formulas directly on your legs: Dior Diorskin Airflash Spray Foundation to even skin tone or the Era Rayz Spray-On Bronzer for quick bronzing bronzing or giving your whole bod a subtle glimmer for a sexy night out!
As an established makeup artist, many beauty brands send me samples of their latest products for consideration. I only write about the items that I truly love and I always abide by Daily Makeover's Editorial Ethics Pledge in each of my Positively Beautiful posts.