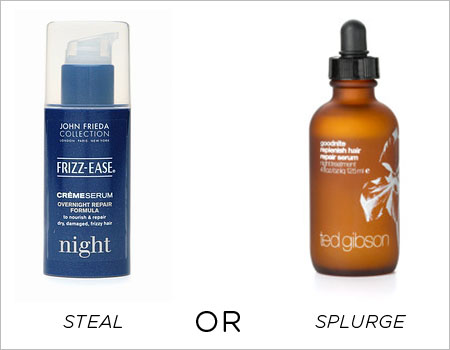 I feel so fortunate that I get to talk to beauty editors all the time. We talk about different ways to use products and different and exciting new things to try. I like to come up with ideas on how to spend your hard-earned money on what is going to be the best for you and your hair.
I want to go over a few products that I think you should either Splurge or Steal. I believe there are certain things that you should splurge on and others you could purchase cheaper. Here are my top picks for both, and if I had to choose one or the other, what my final call would be.
SHAMPOO
Splurge: Bumble and Bumble Seaweed Shampoo ($16)
Steal: Pantene Classic Care Clarifying Shampoo ($5.79)
Winner: Steal!
CONDITIONER:
Splurge: Kerastase Nutritive Lait Vital ($36)
Steal: Garnier Fructis Strength & Repair Fortifying Cream Conditioner ($4.29)
Winner: Steal
DRY SHAMPOO:
Splurge: Oscar Blandi Pronto Dry Shampoo ($19)
Steal: Psssssst Instant Spray Shampoo ($5.99)
Winner: Steal
OVERNIGHT HAIR REPAIR:
Steal: John Freida Frizz-Ease Creme Serum Overnight Repair Formula ($8.99)
Splurge: Ted Gibson Goodnite Replenish Hair Repair Serum ($200)
Winner: Splurge
HAIRSPRAY:
Splurge: Ted Gibson Beautiful Hold Hairspray ($28)
Steal: Sebastian Shaper Hairspray ($12)
Winner: Splurge
FLAT IRON:
Steal: Chi Ceramic Flat Iron ($89)
Splurge: Ted Gibson Professional Flat Iron ($225)
Winner: Splurge
It's fun as a hairdresser to play with different products. DailyMakeover.com is a brilliant way to get reviews on products before you try them out.
Tip: If you need to clarify your hair, instead of buying a clarifying shampoo, you can just mix a little vinegar in your favorite shampoo. The vinegar will remover
the toxins right out.
Remember to splurge on yourself, you are worth it!
And don't forget: Beauty Is Individual.
Ted
As a celebrity hairstylist, I often receive samples of new products directly from beauty brands to test out. Any product I mention in this blog is one that I've tested out myself, in accordance with Daily Makeover's Editorial Ethics Pledge.