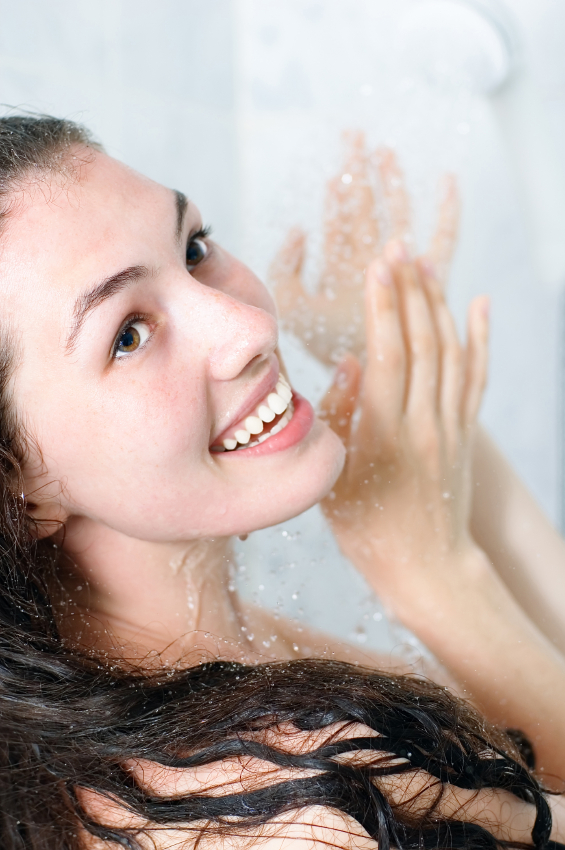 A speedy beauty routine starts in one place – the shower. Its here where you can remove unwanted hair, whiten teeth, apply skin treatments, cleanse, as well as moisturize and give yourself a mini manicure. When you're done, all you have to do is towel off, dress and go, know that you're looking your best with no extra work required!
Pre-Shower
If needed, apply a hair removal cream for body areas with moisturizing ingredients, and then a heat activated cleanser, facial treatment or creamy scrub to your face. Try Nair Shower Power Max Hair Removal Cream or Veet in Shower Hair Removal Cream, Dry Skin Formula for hair removal. For the face, try Biore Steam Activated Cleanser, Clean and Clear Morning Burst In Shower Morning Facial or Boots Botanics In Shower Polish.
You can also speed up teeth whitening pre shower! Apply a whitener or whitening strips before showering. The heat from the water can help enhance the stain-lifting power of the whitening ingredients. Try Crest 3D White Advanced Vivid Whitestrips, or even faster, Listerine Whitening Quick Dissolving Strips.
In the Shower
Once you're in the shower, its time to rinse off your pre-shower products, and then use double-duty products like shower gels or cleansers that contain moisturizer, skin enhancing shimmer – or even SPF. Try Neutrogena Rainbath Deep Moisture Body Wash, Olay In Shower Body Lotion with Shea Butter, and for the face, Freeze 24-7 Ice Shield Face SPF 15, which coats skin with a transparent layer of avobenzone sun screen. For a little skin enhancing treat, try Nivea Touch of Sparkle which hydrates skin and leaves a subtle layer of shimmer after drying off.
Before you step out of the shower, for an instant manicure, apply a few drops of baby oil to your nails and cuticles. They will be instantly shiny, soft and smooth as soon as you're dry.
Image: istock.com