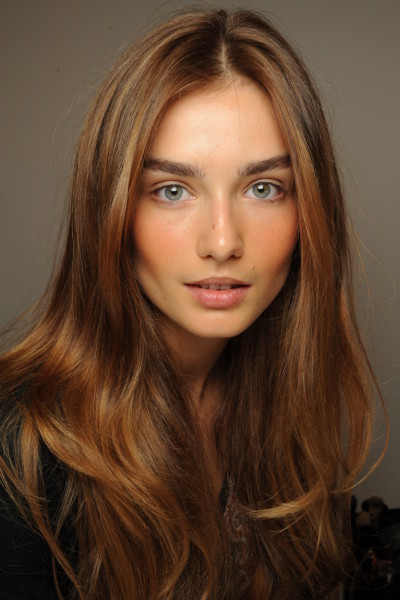 Photo: © Luca Cannionieri
Beautiful tresses are an investment that I don't take lightly. I wouldn't trust my hair to just any stylist and I know you wouldn't either. But, like our bodies, sometimes we do forget that what we ingest plays an essential role in how our hair looks, feels and even how it holds color. Below is a list of the foods that give you the luscious locks you crave and deserve!
Omega Fatty Acids
Found in flaxseeds, walnuts, salmon, evening primrose and black currant, these are my all time number one healthy hair food. They contain good fats that moisturize and promote fabulous, healthy shine.
Protein
Eating foods rich in protein is key for hair growth, as hair IS protein. Hair responds to protein just like the body, and a diet rich in protein will create the volume and thickness we all need.
B Vitamins
They help deliver oxygen and nutrients to the scalp and hair follicles to defend against unwanted premature grays. B vtiamins also protect and repair hair from stress and environmental damage.
Silica
Found in peppers, potatoes and sprouts, silica helps slow down and prevents hair thinning.
Rosemary oil
My secret (well, not anymore!) for the best conditioning and hair growth benefits is rosemary oil. Brushing your hair daily with a couple of drops reduces split ends, stimulates circulation of the scalp (helping with scalp issues) and grows hair at a faster rate. It's also an absolutely fantastic natural leave-in conditioner–no greasiness or icky chemicals.


Try on a new hairstyle in the Makeover Studio!


Suki Kramer, president, founder and formulator of synthetic-free cosmeceutical skin care line Suki clinically-proven natural solutions, has dedicated her life to the research of how the body processes and reacts to all environmental variables, from food consumption to product absorption. Her passion for efficacious, natural products and ingredients has made her a leader in the healthy skin movement. As a guest editor for Daily Makeover, Suki will share her knowledge of natural ingredients as well provide you with the information you need to make the right decisions about what you consume, both inside and out.