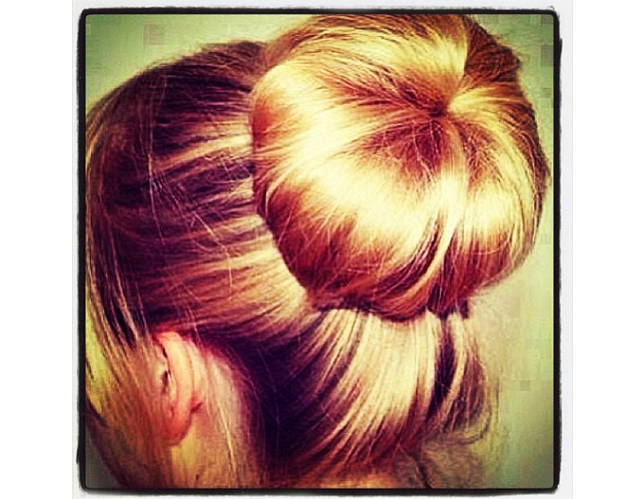 Ever since the top knot faded and the sock bun invaded, it has been one of every girl's goals to master perfect the sock bun. Whether you're running late or your second (or third) day hair is not cooperating, the sock bun is the perfect hairstyle to solve those problems and add instant glamour. Just in case you haven't been able to get this look down just right yet, we've broken down the steps for you to get the look. Give our tutorial a try and see for yourself how great the sock bun can be!
What You'll Need:
1 Sock or foam doughnut
Scissors
Hair elastic
Bobby pins
Step 1: Create Your Sock Bun
If you are using a foam doughnut then simply skip to step 2! If you are using a sock then start by cutting off the toe area. Then, roll the fabric tube from the ankle end to the toe end, creating a doughnut shape.
MORE: How to Get the Perfect Ballerina Bun
Step 2: Pull Hair Into a Ponytail
Pull your hair back into a ponytail, where you would like the bun to be placed.
Step 3: Tuck and Roll the Pony
Start by pulling your ponytail through the center of the sock doughnut. Next, spread the end of your ponytail around the doughnut and begin to tuck your hair while rolling down the sock doughnut. Continue rolling down the doughnut, making sure to tuck in any loose pieces of hair while you go, until you reach the base of the ponytail.
Step 4: Secure Bun
Once you have reached the base of your ponytail, finish off the process by tidying up loose pieces with bobby pins. Finish off the look with a spritz of hair spray and you are ready to go!
Image via Instagram