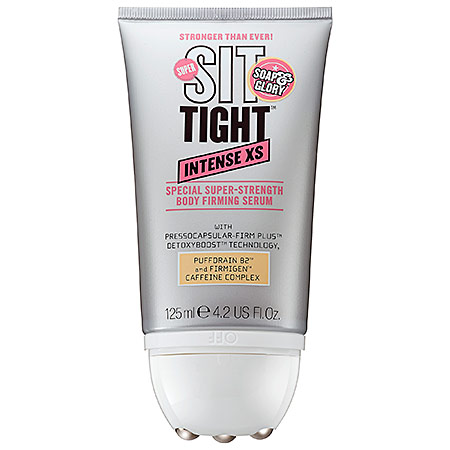 You know how you see the "bestsellers" and "most popular" products in beauty stores, so you of course scoop them up, but then you realize you have no idea how to work them? In "How It Works," we're going to explain to you exactly how to get the best use out of your products, whether they are cult classics or hot off the conveyer belt must-haves. We'll teach you the basics, as well as a few industry expert tips to make sure you're getting the most out of everything you buy.
Now that winter's coming to a close (finally!), we're starting to pay more attention to the areas of our bodies that have been hibernating all season. Namely, our legs. It may not be bikini season quite yet, but our spring dresses are starting to work their way to the front of our closets, and our legs are about to be put on display. Though we can work out and train to the best of our abilities for some serious legs, sometimes, the skin on our legs just isn't quite as firm as we'd like it to be. Enter Sit Tight from Soap & Glory, a serum to tighten skin while you do nothing but sit.
MORE: 10 Things No One Ever Tells You About: Cellulite
Product Perks: 
The packaging is incredibly convenient for application, with metal roller balls at the bottom of the tube so that you can squeeze out product and roll it on.
It's designed to work as you sit, so all you really have to do is apply it for your skin to start feeling firmer. If you have a desk job or you're sitting most of the day, Sit Tight is for you.
After continued use, it helps to smooth out bumpy areas and reduce puffiness.
How It Works: 
The technology in the serum is pressure-sensitive, so it releases more caffeine when you're sitting down. Begin by applying the serum to the back of your legs, anywhere from above your knees to below your hips (essentially, the area of your legs that you sit on). After that, all you need to do is sit. Your legs will start to feel heat, and you'll probably feel a bit of a tingling sensation. Massaging the serum on and then applying pressure by sitting releases the combination of chemicals in the product to stimulate circulation in your legs, which is what tightens and firms the skin.
Where to Buy: Soap & Glory Sit Tight Intense XS Special Super Strength Body Firming Serum, $38, Sephora.com