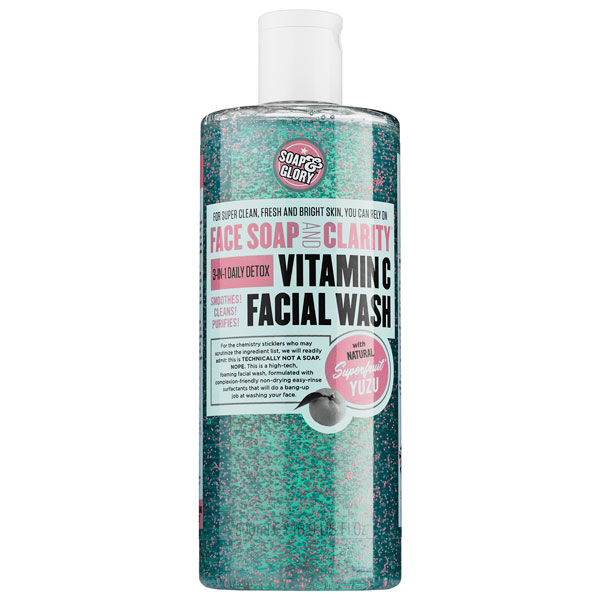 At Beauty High we constantly have new products crossing our desks and are always on the hunt for the next best thing. "The One Thing" is our way of sharing with you that must-have product that you need to introduce to your lives right now, whether it's from a drugstore or a department store.
The every day task of washing your face can be a counterproductive process if you're using a product that's not well-suited for your skin. And the thought of breaking out because you're washing your face couldn't be more annoying. Because of this fact, we're always on the hunt for a formula that effectively unclogs pores, fights off bacteria, and cleanses without completely drying out our sensitive winter skin and stripping it of its essential oils. Basically, we want a heavy duty wash that's gentle enough to fit into our daily routines. Convinced that must be too much to ask for? Think again.
MORE: Must Know Tips for Keeping Rough Skin Hydrated
Soap & Glory's Face Soap and Clarity Vitamin C Facial Wash removes dirt and bacteria from your face and exfoliates without leaving you with a stiff, flaking complexion that many cleansers amplify during these cold months. Its amazing cleansing properties and vitamin-packed and unique formula make it a must-have in our book.
MORE: Drugstore Body Lotions to Soothe Dry Skin
What Makes It Different:

It's not a serum or a cream. This product has a gel-like consistency that easily smooths over skin and lathers into a cooling foam that removes dirt and makeup.
It's formulated with vitamin C and a citrus fruit called yuzu to promote a brighter, smoother complexion.
Why It's the One Thing:
Many highly effective detoxing cleansers leave skin with a dull, tired appearance, but the vitamin C formula in this product works to boost your skin's radiance. The gel consistency (which also works miracles for product portion control) creates a cooling, soothing experience that will gently wake you up during your morning face-washing session.
Where to buy: Soap & Glory Face Soap and Clarity Vitamin C Facial Wash, $25, sephora.com