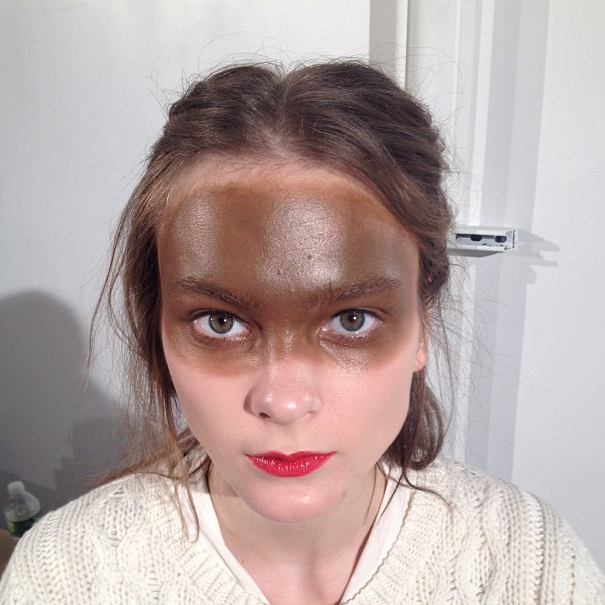 During New York Fashion Week, there's never a shortage of gorgeous backstage looks. While we bring you the most beautiful details from backstage as they're happening, we'll also be shining a spotlight on our favorite must-see snapshots each day. 
Day Three of Fashion Week kicked off with monochromatic makeup at Ruffian and a military inspired look at Prabal Gurung, but one of our favorite shots of the day was this one taken at Band of Outsiders. Not only is there a complete shock factor with the dark shadow mimicking the shadow effect that you get from a brim of a hat, but there's also a beautiful red lip happening.
Band of Outsiders is never one to disappoint, frequently using makeup in unconventional ways. Last season, white concealer was used as war paint on the cheeks, and this season's look certainly falls in line with the designer's aesthetic. The shadow, applied in the shape of a mask, was Shiseido's Shimmering Cream Eye Shadow in Sable and was used to create a deep, shimmering shadow effect under the brims of the hats worn by each model. Lead makeup artist Dick Page simply brushed close into the upper and lower lash line, across the bridge of the nose and under the eye area keeping the edges extremely diffused, much like the natural shadow of a hat. For the red lip, Page used a new shade available for Spring 2013 (Perfect Rougue in Showgirl) and applied it with a fluff brush to keep the lip from becoming too defined or sharp.
Though it's not a look that translates well from runway to real life, we're constantly inspired by the creativity and out-of-the-box thinking at Band of Outsiders.
[Photo by Kristin Booker]