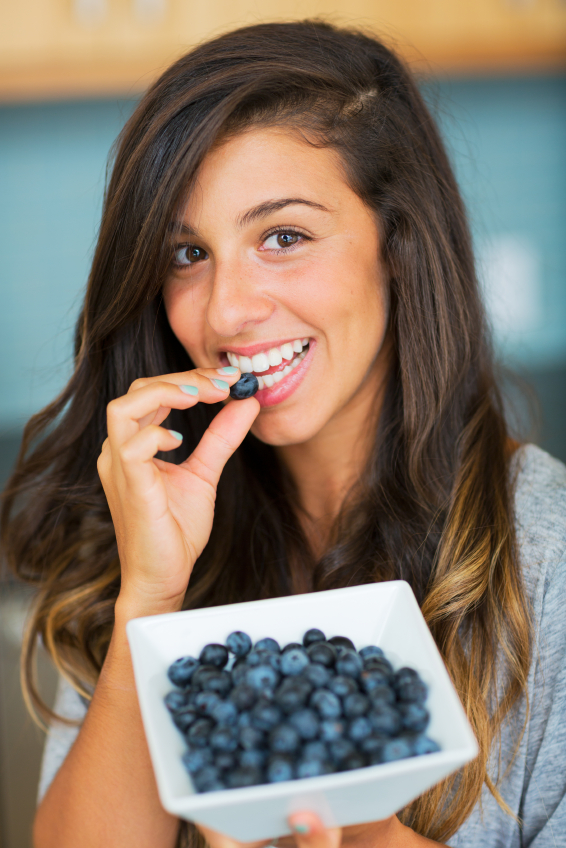 Much like saying that taking your makeup off every night is better for your skin, we all know that late night snacking isn't exactly part of a good diet plan. But, we also know that eating late at night is sometimes inevitable, just like there are nights when taking off makeup seems impossible.
Because you're likely to do it anyway, you may as well make some good food choices. Late night snacking may not mean weight loss, but that doesn't mean it has to equal weight gain. Based on foods that will fill you up without filling you out, take a look at these eight late night snacks that won't make you gain weight.
Carrots: Because they're fluid-dense (meaning they're great at making you feel full quickly), carrots are fantastic for not only keeping weight off, but also for losing weight. They're also packed with vitamins and antioxidants, so your skin will thank you for eating carrots. For an extra dose of flavor, dip carrots in hummus, another great snack that won't cause weight gain.
Celery: Have you ever heard that eating celery burns more calories than consuming it does? That's not untrue, and because they're made of mostly water and fiber, your body will think you're full quicker than eating something else. If you're not the biggest fan of celery, swipe on a thin layer of all natural, unsalted peanut butter to add some protein into the snack.
MORE: 10 Foods That Prevent Bloating
Blueberries: Get yourself one cup of blueberries and snack away with only 80 calories and 4 grams of protein. With a high water content and enough antioxidants to make your skin glow, blueberries will fill you up and hold off signs of aging. That's a win-win.
Raw, Unsalted Almonds: Pick up a package of raw, unsalted almonds for a snack packed with protein and good for you fats. Stay away from anything roasted, salted or flavored to keep the integrity of the snack pure, and limit yourself to no more than about 15 almonds.
Plain, Low-Fat Yogurt: Yogurt is one of the best foods your body can eat, especially because it balances the bacteria in your gut and helps with digestion. For the best results, opt for plain, unsweetened, unflavored, low-fat yogurt. The flavorings can add up to a ton of sugar that will lay in your stomach at night, which can contribute to weight gain. Also, stick to low-fat instead of non-fat. When all of the natural fat is taken out of yogurt, other additives are put in to make it taste like regular yogurt, and those additives are not good for your body.
MORE: 8 Foods That Help Your Hair Grow Faster
Cottage Cheese: Some people hate cottage cheese, but it's a fantastic snack for weight control. Make your serving a tasty treat by mixing in blueberries and almonds for an anytime snack, whether it be late night or early morning.
Hard Boiled Egg: Boil a batch of eggs one night and store them in your fridge for easy snacks throughout the week. Eggs are high in protein, good fats and they're low calories, so do yourself a favor and choose this over that handful of chips.
Peppers: The "heat" factor in peppers has been shown to help with appetite control and increased heart rate, which in turn burns calories. Red peppers are especially great, and if you need a bit of extra flavor, dip peppers in a bit of hummus.
Image via Istock