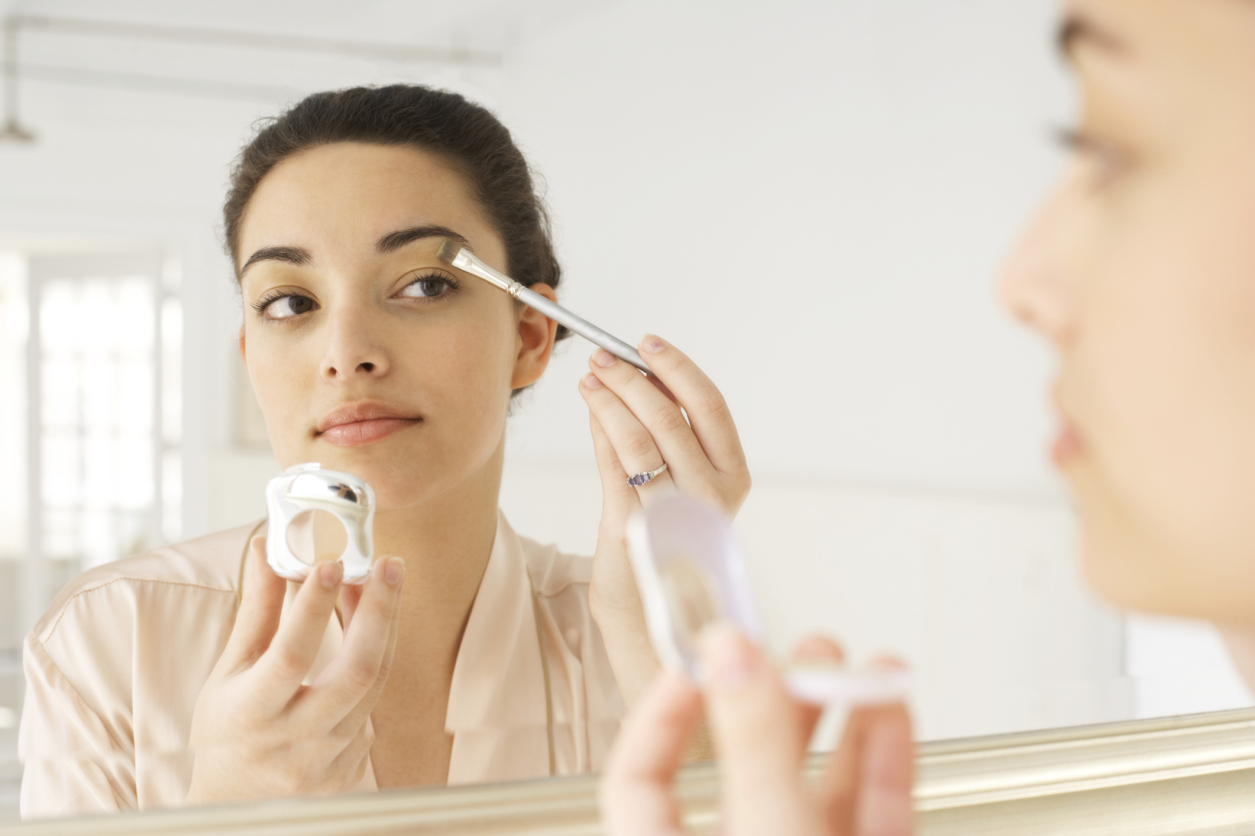 As much as the lived-in makeup look is on trend, smudged eyeliner and mascara can walk the line between sultry and sloppy. There's nothing worse than trying to get your makeup to stay in place all day, then realizing that your favorite products are running down your face. So, to help you make your makeup stay put all day long, here are eight tips for perfect, smudge-free makeup.
1. Moisturize: Of course moisturized skin is better than dry for applying makeup, but be sure you're applying oil-free moisturizer. If you immediately apply foundation after a very emollient face cream, the mixing of the two will leave you looking and feeling a bit slick, which isn't ideal for makeup that stays put. To keep makeup in its place, use a cream or lotion without oil.
MORE: Tips For Smudge Proof Eye Makeup
2. Prime, prime, prime: We can't stress enough how amazing primer really is. For foundation, lashes and even lips, help makeup to stay in its place so you can fully focus on painting your canvas! Some primers are even great 2-in-1 moisturizers, like BB creams.
3. Baby powder and eyeliner: Before you apply eyeliner to your bottom lashes, dust a brush over some baby powder, tap out the excess, and sweep under your lower lash line. The powder will absorb excess moisture from the area, making it easier for the eyeliner to stay in place longer. Blend the powder once your done to remove any white color from the face and you're set!
4. Blot Your Lipstick: Once you've applied a coat of lipstick, use a tissue to blot lips. Gently press your lips against the tissue, removing any oil from the product and giving your color staying power.
5. Consider Waterproof Products: Though many ladies aren't fond of using waterproof makeup because of the difficult removal process, this is one way to make sure your makeup doesn't budge. To make things easier, find a waterproof makeup remover (especially for mascara) to use so that the process is less frustrating.
MORE: Expert Tips to Rocking Dark Lips This Fall
6. Use Stains: Based on its name, a stain has a great staying power because the pigment is so potent. Blush and lip stains, or even using a lip stain as a blush, are great ways to keep your color on all day long.
7. Carry a Mattifying Product: Powder mattifies on its own, but if you get a mattifying powder, you double your odds at smudge-proof makeup. Sweep the powder over your face to set your foundation, leaving skin looking flawless.
8. Look for the Ingredient Polymer: Polymer as an ingredient helps to reject water and oil as well as camouflage skin flaws. It responds positively to the surface of skin, resulting in stay all day wear.
Image via Christopher Robbins/Digital Vision