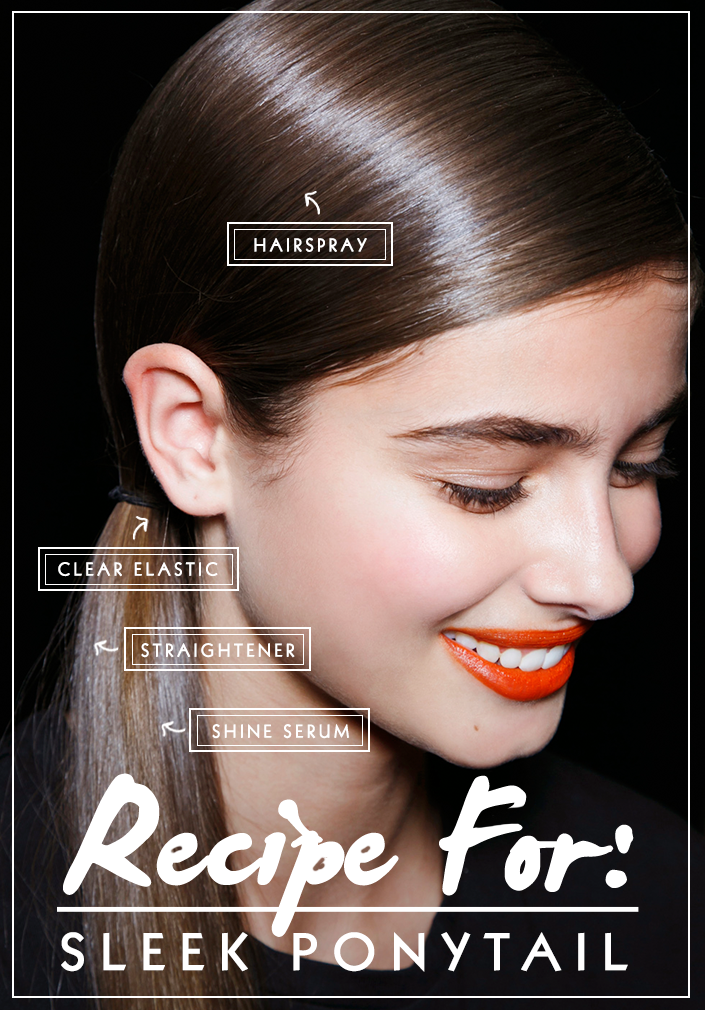 The top knot has risen to fame as the easiest way to take your look from weak to chic, but there's a new low maintenance look in town: the low pony. The hairstyle is modern, polished, and most importantly, easy to do.
Dress it up or dress it down, the low ponytail has the ability to pull any look together. Because every woman should have a go to elegant 'do in her hair arsenal, we've put together the perfect recipe to achieve this simple and stunning style. Read on to find out how to get the look and remember to never underestimate the power of a pony.
MORE: Trendspotting: Low Ponytails on the Spring 2014 Runways
Flat Iron: The first step is deciding where to put your part. Center or side-parted, each creates an elegant and polished look. Once you've decided on a part, next step is to smooth out your hair with a flat iron.
Shine Serum: Rub some shine serum between your palms and apply it to your locks to add shine and prevent any flyways. Focus the serum from the mid-lengths to the ends, as serum at your root can look greasy, not sleek.
MORE: Best Hair Serums for Smooth, Shiny Hair
Clear Elastic: Grab a clear elastic and carefully gather that sleek hair into a low ponytail. Place the pony at the nape of your neck and secure it with the elastic.
Hairspray: Finish by spraying some hairspray onto the bristles of your brush to smooth out any remaining frizz. If you notice any tiny, pesky flyaways, spray the hairspray onto a toothbrush and use that to smooth down your hair.
Image via Imaxtree