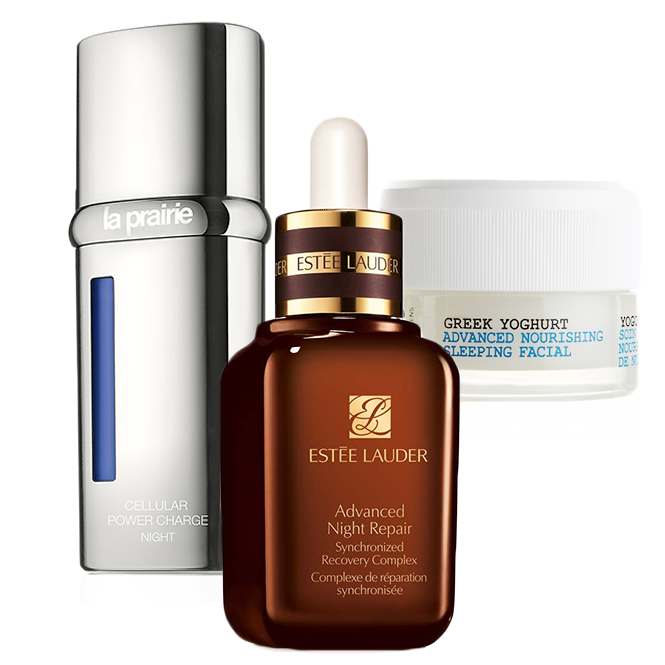 We've always noticed a link between the hours of sleep we get and the state of our skin. When we're having a bad sleep week, our skin looks rougher and older. Now, a clinical trial conducted by physician-scientists at University Hospitals Case Medical Center and commissioned by Estée Lauder confirms what we already know: sleep quality impacts skin function and aging. The study of 60 women between the ages of 30 and 49 found that poor sleepers show more signs of premature skin aging — fine lines, uneven pigmentation and slackening of skin and reduced elasticity — and a decrease in their skin's ability to recover after sun exposure.
"This research shows for the first time, that poor sleep quality can accelerate signs of skin aging and weaken the skin's ability to repair itself at night," said Dr. Daniel Yarosh, senior vice president of basic science research at The Estée Lauder Companies.
While you may not be able to change how many hours of sleep you get at night, you can make the most of your the sleep you do get with these key night products:
1. La Prairie Cellular Power Charge Night ($475, shoplaprairie.com)
This high-end serum combines cellular retinol cream with a cellular power gel. Together, the star ingredients support cell turnover, feed skin the optimum level of oxygen, and accelerate skin tissue renewal and recovery. The result is smaller pores, minimized wrinkles and smoother skin.
2. Estée Lauder Advanced Night Repair ($62, esteelauder.com)
When you start to notice your skin aging faster than it used to, it's time to turn to a great night serum. The Advanced Night Repair delivers intense hydration to the skin using hyaluronic acid. This miracle ingredient also plumps the skin, so fine lines aren't as noticeable. And if you happen to be suffering from acne at the same time as wrinkles, don't worry, because this formula is non-acnegenic.
3. Korres Greek Yoghurt Advanced Nourishing Sleeping Facial ($45, sephora.com)
Ever heard the advice that you should put socks over moisturized feet before going to bed? This sleeping facial locks in moisture in a similar way. Using super-powered proteins, the mask delivers intense hydration throughout the night while you sleep. The result is smoother, dewy skin.
Read more: Diane Kruger Gave Up Two Bad Habits to Get Perfect Skin