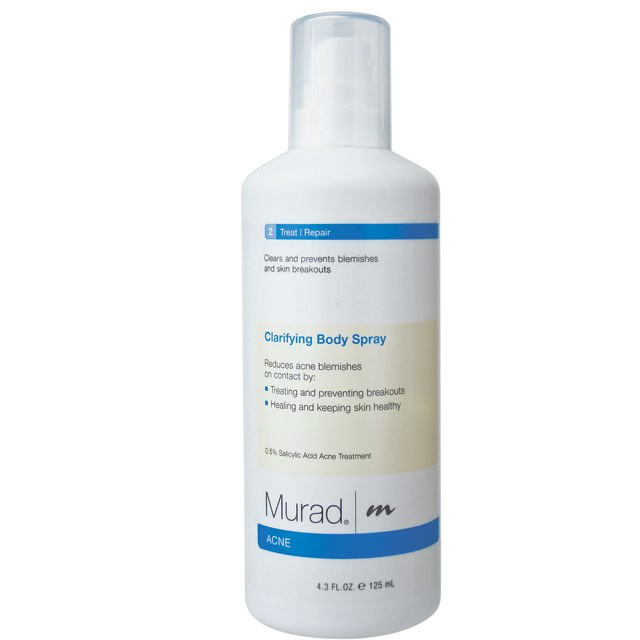 There's really nothing to be ashamed of, honestly. We ALL get breakouts in the most awkward of places, be it on the back, arms, chest, neck, you name it. What products can you usethe same ones as for your face? Should you put your normal blemish remover product over those angry red bumps or buy the first drugstore product you find that says "acne wash"? The new-found solution that we are loving for its subtlety and innovative application is the Murad Clarifying Body Spray, a great travel companion that can go with you to the gym, for some post-workout spray action, or left in your bathroom or bedroom as a post-shower treatment. With triclosan, retinol and salicylic acid, your pores will be on their way to an impeccably clear state, while blemishes will be healed and bacteria will be eliminated.
The bottle also features a unique 360 degree spritz function that actually works upside down so you can apply it in those hard to reach areas yourself, perfectly fine to do up to three times daily (but start out at once daily and check your skin to make sure you aren't drying it out too much). For extra efficiency, pair with the cool blue-hued, practically scentless Murad Acne Body Wash to give a slight exfoliation while further clearing pores, removing redness and irritation, eliminating bacteria and hydrating the skin.
Perfectly suited for both guys and gals, it's time to feel extremely confident that body acne can finally be conveniently tackled, once and for all!