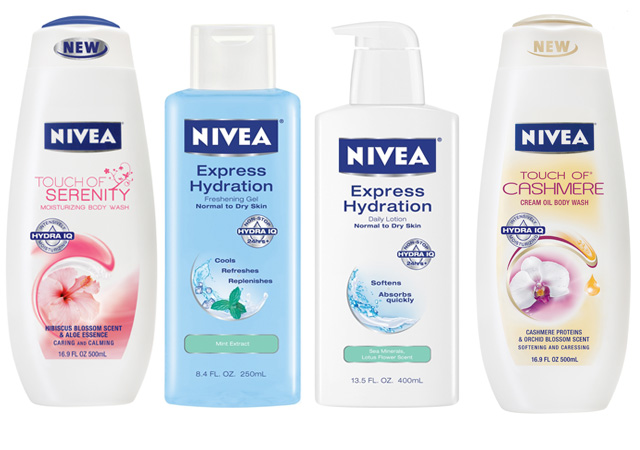 To get ready for bikini season, moisturizing is a must. If we're going to bare more of our skin, it better be soft, smooth and silky! Nivea is launching a new product line with an exclusive moisturizing technology called HYDRA IQ. The technology helps to support the skin's hydration system by promoting water transfer throughout the skin, resulting in longer-lasting hydration.
Nivea held a consumer study with the products, and more than 2 out of 3 of the women who participated said that the products containing the HYDRA IQ technology cared for their skin better than their current products. That's a pretty good number in my book, and my scaly legs could use some extra moisture before Memorial Day weekend!
The new products range from $5.99 to $8.99 and are available in drugstores now. Or, you can enter for a chance to win a package of Nivea HYDRA IQ products (pictured above), as well as a VIP ticket to an upcoming Nivea Beauty Influencers Lounge event on Tuesday, May 17th.
1. Click this button to "Like" Beauty High on Facebook
2. Click this button to "Like Nivea on Facebook.
3. Post your name in the comments section below to let us know that you've liked both pages!
**You have from now until Saturday, May 14th at 5PM EST to enter. Winners must live in or near NYC to attend the event.